Architect Arjun Rathi finds that lighting design is what adds emotion and character to his multi-disciplinary practice
How did the architect turn into a lighting expert?
Without light there would be no architecture! Being formally educated as an architect allowed me to understand the various scales of spaces. I considered lighting design as an extension to my work at the micro-scale; it allowed us to explore the field of custom-made decorative lighting as they were specific products designed for the space. This helped the practice evolve into a multi-disciplinary format where we cater to projects across architecture, interior spaces and custom lighting design. That's how our tag line evolved: Light. Form(s). Emotion.
What were your major takeaways from your time in Switzerland?
The journey to Switzerland started with the selection for a Summer School program at the Berne School of Applied Sciences; my portfolio of academic works helped me secure a job, which allowed me to extend my stay for almost a year.
Majority of my travel around Europe was planned around buildings and cities I wanted to visit, which exposed to a lot of different design sensibilities and culture and helped me grow. I always feel one learns a lot by visiting spaces and different buildings, especially experiencing those you have studied as a student. Living for an extended period in any country is a great learning experience as it allows you to view culture from the lens of a resident and not a tourist. The work culture there was a great learning experience – I've picked up a lot of things I wanted to implement as processes in my practice. The firm where I worked was specializing in medical and industrial buildings, which gave me a very different work experience.
What led you to set up your own practice?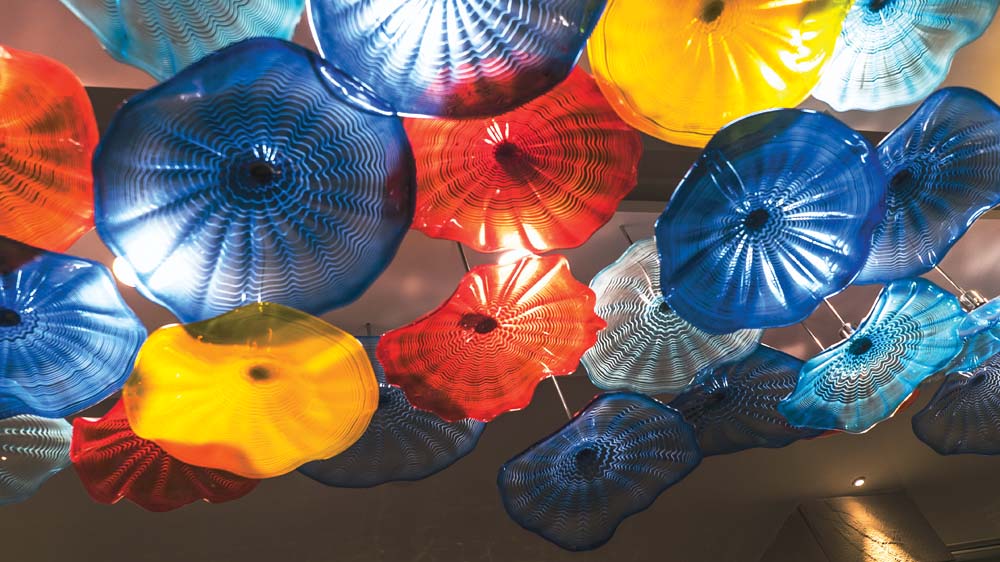 After I returned to Mumbai from Switzerland I was working for Indiabulls as their in-house architect and project manager; this exposed me various processes from regulatory and project management to design nuances of working in the Indian construction environment. I started out on my own in 2012 with an architecture project which was a port building at the Mundra SEZ. In due course the project went on hold and suddenly I had no work. To keep myself busy I created a lamp from a recycled Ambassador car headlight to gift to a close friend. The Ambassador Lamp was featured in several magazines and one of the publications caught the eye of architect Ashiesh Shah who gave me the opportunity to custom design lighting for his projects. That opportunity has evolved into a full vertical for us in the practice where lighting design is now integral to how we design products and our interior spaces. The interdisciplinary nature of design helped the practice evolve to what is today, working at the macro and micro scale across architecture, interiors and products.
How do you define smart-lit spaces?
Since we spend a majority of our time in interior spaces with artificial lighting, I feel maximizing the use of natural light to light up a space is very important. The connection with nature can increase productivity and help with better work efficiency.
The characteristics we identify with spaces, such as warm, cozy, relaxing, serene, or peaceful can be directly related to the lighting quality of the space. Often lighting reflects our moods and has a power to affect our state of mind. Even the direction of light positioning can impact the way people feel in spaces. For example, intense, non-uniform light from above eye-level can make you feel tense. Lower overhead sources of light from behind and soft colors can make you feel relaxed. Uniform bright light, cooler colors with more focus on the space and not the walls can increase productivity in a workspace. Low levels of light in the perimeter and dark areas in the room can give a sense of intimacy or privacy in a room.
Which materials do you prefer to work with?
Lately the studio has been exploring a lot of cast glass with recent works, which has gained a lot of interest. The process involves melting and reforming raw glass into slabs and shapes which can be used as surfaces and lighting components. We find the process very poetic as molten form of glass cools in a controlled environment to form a material reminiscent of frozen ice. This allows for a great lighting potential for the material. Also, each cast of the slabs is unique and no two slabs will ever be the same.
Which projects have had the greatest impact on you so far?
The practice is still young and most projects are very close to the heart as a lot of thought goes into designing each work. One of the most memorable projects in recent times was the lighting installations we had designed for the World Towers in Mumbai. The project involved a lot of experimentation with glass and structural ceiling design on a large scale, which was new to the studio and a great learning experience. We were able to compete against foreign companies in Singapore and Czech Republic to secure the commission and the project helped establish the studio in the plateau for large scale lighting installations.
Another interesting project was the office design for Jan Pro India, an international facility management company opening their India franchise office. Over the years the studio has been doing a lot of research on sacred geometry and application of those proportions into architecture. The Jan Pro office was one of the first experiments on a larger scale applying the golden ratio and various sacred proportions to create interior-architecture and experiment with earthy finishes for the space inspired from Rural India. The project also helped us initiate research into a new style of interior design the studio is trying to create, which we term as Rural Modern. The Rural Modern style explores an adaptation of modernist design styles inspired from the subject matter associated with the Indian countryside and Rural India.
How would you describe luxury interiors in the current context?
Luxury interiors as a term is quite difficult to explain and even harder to define since adjectives like beauty, style, and happiness that are associated with luxury are very subjective. The earlier mindset of purchasing tangible objects to demonstrate wealth has shifted into unique personal and travel experiences. For example, traveling to the Maldives for a vacation has affected interior design more in the recent context – people want to have luxury experiences in their houses now, whether it's a spa-center in their bathroom or a home-theater system which rivals most multiplexes. The design process for such projects has also changed as people expect to visualize the overall vision through 3D renderings before they invest in such purchases for the project.
There has also been a trend of shifting from big brands to boutique and artisan driven crafts. Everyone wants to have unique and one-off objects for their residence where exclusivity has helped define luxury. Customization has become the norm to bring out the client's individuality and the spaces no longer need to be functional. 'Form follows demand' has become the norm for luxury projects.
What is the most effective way to deal with clients?
Since most of what we do is personalized, the interaction between design and build has to be embedded in a fabric of good communication. Catering to clients in the present context can sometimes be challenging as a lot of design inspiration is out there with access to the internet, so it's sometimes difficult as the brief might keep evolving. It is important to define the parameters and vision for the client at the early stages of the project to avoid time-consuming reworks at a later stage.
What challenges do young architects face in India today?
I think most young architects need a 'prove yourself scale' of project to establish themselves. It's important as young architects not to undercut on fees or execution quality to secure such works as it affects the overall result in the design market. Making yourself visible with your work is easier than ever before through social media, so it's important to talk about work and the ideology behind it. This will help in finding clients who align with your thought process and help you grow further.
Tell us about your interest in industrial design and photography. How do they influence your professional practice?
I've always considered design as an amalgamation of various disciplines. The boundaries between art, design and para-professions like photography, fashion, theater, and production design are blurring quicker than ever. Cross inspiration and incorporating elements learnt from these disciplines are getting more common. Our customized lighting is being handled in the industrial design vertical. For me photography has been a strong tool for inspiration for space, color and light composition. I personally shoot with 35 mm and 120 mm film and love blurs and light leaks in my images as they give a surreal interpretation of the subject…it's more of a tool for me to relook at everyday things with a different lens.
What's next?
The studio this year is experimenting with kinetics, motion and interactivity in design. We will be launching our first kinetic chandelier this year, called the Spirograph, the form for which was inspired by the movement of Indian dancers. The work is being developed with local engineers from various fields and we are excited to see the results over the next couple months.
On the larger scale our aspiration is to design lighting installations at the upcoming new airport in Mumbai. As a local firm we are committed to increase our scale of works and production in order to bid and cater to the design requirements for a project of that scale.
This article was originally published in POOL 103.
Subscribe to POOL Magazine, and stay in the know of all what matters in Indian Design today!
Tags: Architecture, architecture design, Arjun Rathi, custom-made lightings, industrial design, Lighting, lighting design, lighting designer, Photography