Hormazd Narielwalla saves old tailoring patterns from being trashed by turning them into works of fine art
Introduce us to your work.
My work is an open invitation to the spectator to join me on a journey in the mind, an offering of unknown splendor and hidden detail, high seriousness and eye-twinkling allusions side by side. I am a fine artist turning tailoring and sewing patterns into interesting and vibrant collages, sculptures, original prints and books. Collage is a natural medium for me as I work with paper tailoring and sewing patterns interpreting the body, and the human condition in abstracted form. My work has moved into the realm of books, fine art publishing, artist books, sculptures and installation based works. However, there's always some element of collage. Somebody once described my work as a conversation between art history and fashion. I borrow and speak to many themes around Modernism, which is when collage as a practice evolved. 
Briefly describe your design journey.
I grew up in Pune, where I worked as a stylist for magazines like Citadel and Femina Pune. Fifteen years ago I came to the UK to study Fashion Design, specializing in Menswear, at the University of Wales, Newport. I then moved to London, where I embarked on a Master's at Westminster, specializing in Fashion Communication. It was during this time that I met William Skinner, the Managing Director of Dege & Skinner, a 150-year-old tailoring house, who told me that upon the death of his customers, they would ceremoniously shred their tailoring patterns. This left a profound effect on me and I convinced him to give me a set of patterns, which inspired the making of an artist book called Dead Man's Patterns. The book was very well received, and the British Library and the National Art Library acquired it for their world class collection of books.
Fashion designer Paul Smith heard about it, and invited me to visit him; he bought several copies for his stores in London and Paris. He also gave me my first solo show. I was also commissioned by the Savile Row house to write and put together the biography of their Chairman and Master Cutter, Michael Skinner. The book is called The Savile Row Cutter. After completing the book I was awarded a full scholarship by the University of Arts London to read a PhD at London College of Fashion where half my supervisors were fashion experts, and the other half were established artists. 
When did you first experiment with using tailoring patterns to create fine art?
It was during my PhD that I explored the concept of representing tailoring patterns as geometrical abstractions of the human body, and investigate themes around the human condition. My PhD thesis proposed a new interpretation of tailoring patterns. Far from being a mechanical part of the production process, patterns can be viewed as interpretative drawings in their own right. They carry with them not only the garment but also impressions of the body. They are rich and rewarding source materials for producing contemporary works within an art practice framework.
After completing my PhD I started working with French sewing patterns from the 1950s. These are incredibly exciting as the patterns of every section of the garment are printed on top of each other, abstracting the human body in geometric compositions. This in an art context was accidental and unnoticed. By inserting color and texture I was able to convey the body utilizing cubist philosophies where a subject can be depicted in multiple views on a single image – in my case the subject being the patterns representing the body. 
What is your favorite material to work with?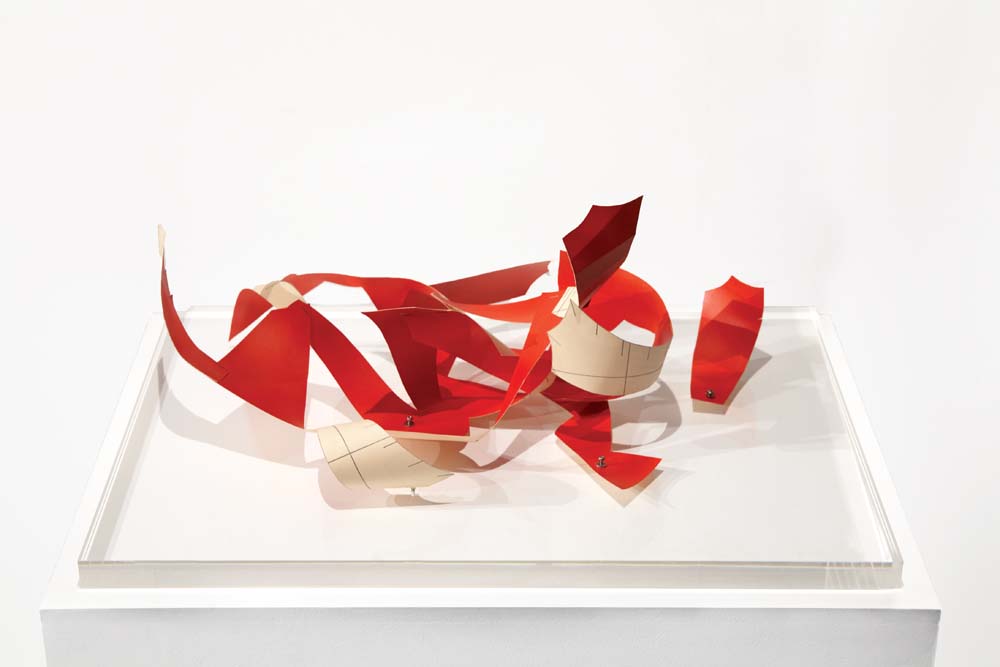 I love paper in every form. My repertoire of papers comes from all over. I always try and find materials from my travels in Europe and Morocco. My tailoring and sewing patterns come from different dealers. Often costumiers and designers contact me to ask if I would like their patterns.
Which have been your most memorable projects?
My artistic career began in the cutting rooms of Dege & Skinner in Savile Row. In many bespoke tailoring establishments, paper patterns hang from metal hooks like carcasses in a butcher's shop until required, when they will be pinned onto the cloth to guide the cutter. Some tailors ceremoniously shred the patterns of deceased customers, since such records have no life without the body. At Dege & Skinner, however, all the patterns are folded and stored in large brown paper envelopes. The large sheets of paper are marked by the tailor's pencil: numbers and dates recorded in a codified script, perforated by pin-pricks and cross-hatched by contours describing the absent body. I began to view these poignant documents as drawings in their own right. The discovery led to the artist's book Dead Man's Patterns (2008), in which patterns form the central narrative. They provide a neutral background for my digitally manipulated drawings and photographs, and the basis of a meditation on mortality and fashion. The fragments of paper are seen as a poignant memento of the knowledge one man once had of another's body. The book charts the shifting relationship between the deceased man and his tailor, from maturity to senility, and also marks a wider change in the status of bespoke clothes as a craft form.
My latest work Paper Dolls brings together a collection of my signature abstract collage works on vintage sewing patterns, alongside a set of figurative self-portraits, where I cast myself as a mysterious geisha.  Inspired by a chance encounter in the streets of Soho, I am lured into an exploration of the Far East and take the viewer along, as I conjure up paper dolls from Japan, hidden places, people and portraits. With references to Japanese hand-crafted papers, kimonos and origami papers, the book evokes a scent of escapism and fantasy, secret encounters, mystery and seduction.
Does India influence your work?
My color references and the use of it have strong links to India. I love color, and how it's used to create my compositions. I think my layering techniques, especially in my Body Architecture series inspired by the Jali windows of Rajasthan, tell a multicultural story of identity and the landscape of India. Sometimes my work can be playful – for instance I made illustrations depicting myself as a Maharaja – my alter ego.  
What's next?
I have now cast my eye to outer space and Mars is the subject of exploration. I abstract the most fundamental shape – the circle – and have created unique fragmented geometrical collages based around it. I am also working on a series inspired by my travels to Marrakech. From the deepest belly of the Souk I found several bright color dyes, including the Majorelle Blue, which were brought to London and colored in on papers to create geometrical ceramic tile shapes for collages in keeping with the cultural French-Moroccan landscape.  I hope to keep developing my practice, and train my eyes to see new forms and shapes. I also plan to collaborate with major couture fashion houses and entertain private and public commissions.
This article was originally published in POOL 105.
Subscribe to POOL Magazine, and stay in the know of all what matters in Indian Design today!

Tags: art, artist, fashion designer, fine art, Hormazd Narielwalla, paper tailoring, patterns