Auto majors jostled for visibility at the recently held 12th Auto Expo 2014, organized jointly by the Automotive Component Manufacturers Association (ACMA), Confederation of Indian Industry (CII), and Society of Indian Automobile Manufacturers (SIAM). Sudhir Sharma, who was associated with veterans Bajaj Auto Ltd. and newcomers Triumph Motorcycles, comes away intrigued by the changing focus of such shows in India.
The Bajaj Auto Expo pavilion was inspired by the natural art style of a celebrated Australian artist, Christopher Hogan. It featured five cars hand painted by the artist, along with newly launched models of Pulsar, Discover, and a new 4 wheeler concept called 'U Car'. Sudhir had met Christopher and his wife Beres on their first visit to India. Christopher conducted fascinating workshops at Bajaj, encouraging employees to create paintings in his vibrant style. Many of them were painting for the first time! Some of these have been used as backdrops for the pavilion; others are displayed at the Bajaj offices.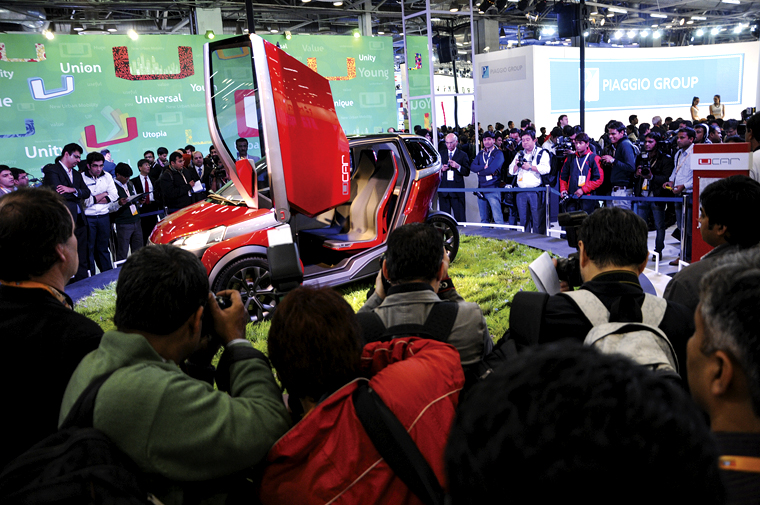 Triumph Motorcycles made a triumphant entry into the Auto Expo with NDTV Car & Bike Show awarding its pavilion 'Best Brand Entry: Two Wheeler in India' for stall concept, POP concept, customer interactions opportunity, customer entertainment and brand visibility.


Read more about how INDI Design conceptualized and implemented Auto Expo 2014 project in POOL 45.
Tags: ACMA, Auto Expo 2014, Bajaj Auto, CII, Exhibition, INDI Design, Pool 45, Rajiv Bajaj, SIAM, Sudhir Sharma, Triumph Motorcycles