Ceramic artist Rekha Goyal is as passionate about making her craft accessible to people as she is about creating her own works of art
Tell us about your formative years. How were you drawn to clay?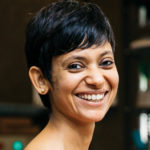 My earliest memory of working with clay is in an after-school class when I was 12. It must have been fun, because I continued with it. Looking back, I think what got me interested in clay as a medium was that it allowed me to give a physical form to what I was thinking and feeling. What worked for me as a kid still holds true today.
What role has formal design education played in your career?
After a rigorous entrance exam, getting into Sir JJ School of Art, Mumbai for a Bachelor's degree in Fine Art felt like I had arrived. But the journey from what you want to create to creating it is much longer than five years of art school. A formal education in art school has laid the foundation for me to continue learning. It has helped me develop an ethos towards my work that I think makes my work honest and wholesome.
I also went on to pursue a Master's degree in Art in Architecture in London to learn more about art in the public sphere. The course gave me a good understanding of how art has been incorporated into the public sphere, its purpose and impact. There is a reason why some of the most successful cities in the world value art in their public arenas and it was fascinating to study this; it really strengthened my approach on art projects. Architects and designers appreciate this thought. Satisfying multiple criteria makes such projects challenging, but that is what I enjoy.
Is there a 'Rekha Goyal' signature style? Tell us about it.
Every piece that I create stems from an emotion or a confluence of emotions. It is easy to shut the emotion out and focus only on the physicality of the work. But then, what is the difference between something made by a machine and made by me?  I like my emotions to flow through my work and find an expression in their form. It is a process of discovery, of being able to listen to yourself. Like meditation, this is something that comes with practice. I think what probably stands out most in my work is its dynamic simplicity.
What does it take to achieve this dynamic simplicity?
The ability to listen to yourself and separate the noise to find the truest emotion and then to be able to recognize it when you see it. Like most things this is an inward journey and once one has achieved the balance and calm, there is dynamism in simplicity.
Which of your projects have been particularly memorable?
All my projects are memorable in their own special way. Every team of architects and designers I have worked with has had a unique dynamic. There is a new challenge to be encountered each time and something new to be learnt. I guess the first project is etched deeper in my memory. It was a mural that I had collaborated on with another artist. I was 23 years old, just out of college and had taken on something I had never done before, at least commercially and at that scale. It was also my first exposure to conducting a meeting, working on a brief, getting the commercials right and working on a project plan. It was all so exciting! I was fortunate to have had that opportunity early on in my career.
Share your experience of working with hospitality and other brands. 
Hospitality brands understand the value of art transforming the experience of the space. I am fortunate to have worked with brands that have placed their absolute faith in me and have given me freedom in creating art for the space.
Ceramic as a material can be tricky to work with on a large scale. In addition to the art and the chemistry involved, an added dimension of physics comes into play. Among the more challenging works of art that I have worked on was a 70-foot high wall installation for Le Meridien. The process of visualizing your work, creating it and then installing it across seven floors is, without a doubt, very challenging. Another work that comes to mind is a suspended installation I did for a luxury living space in Dehradun. This suspended installation was in an open atrium, which meant that in addition to its own weight, it had to be designed and installed in a way that it could handle strong winds and the rain. The materiality, installation technique and placement, all come into play.
How did 'The Pottery Lab' come about?
The Pottery Lab is a studio I have set up in Mumbai purely for teaching and also to sell my functional work from. Growing-up, I remember my parents showing almost equal interest in my dance classes, if not more, as they did in my academics. But as adults, especially in cities, there seems to be little room, literally and figuratively, for art. We seem to be caught-up in trying to make a living, instead of living.  I believe art and craft has a positive and balancing impact on our lives – as individuals and as a society. The act of creation is therapeutic. It allows you to develop a connection with yourself and with the environment around you.  We all need this, as individuals and as a society.  The Pottery Lab has been an endeavor in this direction – to make art and craft easily accessible to people – so we all live a little more mindfully. 
What has two decades of creating art installations and murals taught you?
Most creators get excited with the prospect of creating something new. At the start of every new project, your thoughts are rushing, and it is normal to get excited. But then, with experience one learns to channelize this excitement towards the act of creation rather than as an end. Experience also teaches humility. You realize that if you don't plan well, don't work through every detail, things can go wrong. Like I said earlier, murals and installations are equal parts art, chemistry and physics. It is not just about imagining the esthetic, it is about delivering it. So, two decades of creating art installations and murals has taught me humility. And every new work of art makes me realize that I love my profession. It is how I live and how I feel. 
Have there been many entrepreneurial challenges along the way?
As a ceramic artist, setting up a studio 20 years ago was a challenge as there was no support structure – external body or the government – that really came forward and supported people who wanted to pursue art professionally. We were pretty much on our own. Even simple things like access to good quality materials and equipment were a struggle. But on the brighter side it's an experience that has taught me a lot – of factoring in the enabling environment while working on a project. That approach now helps me while working on my art projects. I like to tackle challenges by taking a deep breath and thinking through the situation step by step. I persevere and don't give up. And I am not afraid to ask for help. 
How do you balance creativity with the commercial side of it?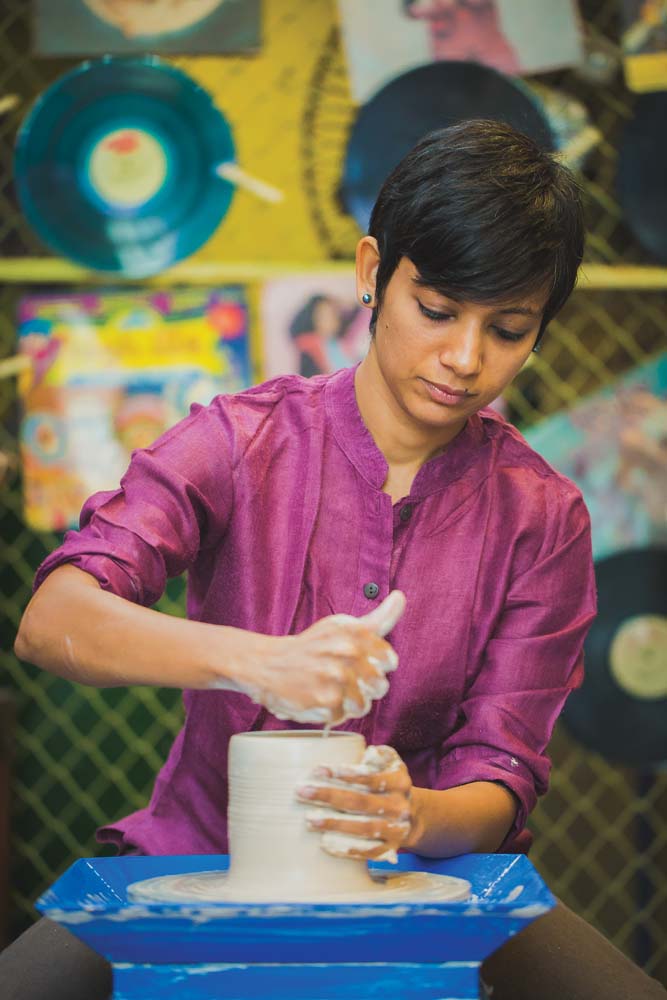 I don't see these as being mutually exclusive. Good work will always be sellable if it has been done with complete sincerity and honesty. People who seek honesty in the work they are commissioning can find artists to work with and vice versa. 
Tell us about your passion for dance. How does it translate into your ceramic work?
I love dance and rhythmic movement. I think when I am at work in my ceramic studio, dance makes me more aware of my body with respect to my work and the space. So, as an artist one ends up using their body in a rhythmic manner while creating their work which impacts, I think, not only the work but also the process of creating it.
Where do you think ceramic art is headed in India? 
There is a new-found appreciation for ceramic art in India. From larger commercial spaces it has grown closer to people, extending to intimate private spaces such as residences. That is an encouraging move. 
What's next? 
I think I am fortunate that I can practice doing what I love. I hope that through my art practice I can leave behind something beautiful and through my teaching continue sharing this art form. 
This article was originally published in POOL 103.
Subscribe to POOL Magazine, and stay in the know of all what matters in Indian Design today!
Tags: ceramic art, ceramic artist, ceramicist, ceramics, ceramist, indian ceramics, Rekha Goyal