Ceramic sculptor Shayonti Salvi gave up a career in interior design to pursue the lure of clay and discovered the freedom of creating exactly what she wants!
What does being a ceramist mean to you?
In many ways it is a testament to my love of art and nature. What amazes me about ceramics is its use of all the five elements of nature; it is a truly complete medium of expression! I have always been attracted to the earth, and after being exposed to various media during my art studies, I found that clay resonated with me the most.
What role has formal education played in your career?
I wanted to be an artist when I started out my higher education after school; however, my father convinced me to work in a commercially viable vertical of art, which is when I started exploring interior design. I find that formal education is just a stepping stone to transitioning into any professional practice in our country. I must confess that while I have done all my study in India itself, I have felt the lack of relevance in most of it, except for ceramics. I found that very little of what I studied in my interiors course actually held me in good stead in the real world. One actually got better at the job by seriously engaging in it and delivering. So, while it is important to initiate yourself into any practice through formal study, I feel that actually working at something is more important. We give too much importance to the paper in our society. More importance should be given to the experience.
I always credit my organizational capabilities to my seven years of work experience with two architectural firms – NPAPL and Sanjay Puri Architects. I had a wonderful experience working in both firms. The style of working was poles apart, allowing me to grasp and learn different aspects of architectural design at both. Nothing teaches you better than being on the job. At 26, I was an associate, handling my own projects and team.
When did you feel the lure of ceramics?
At some level I always knew that I would switch from a corporate job to being some form of an artist. That it was to be ceramics came about during my year of Foundation Art at Sophia Polytechnic in Mumbai. We were exposed to various forms of media then and I found ceramics the most compatible one. Through my working years, I engaged in various 10-day ceramic workshops with different artists in Mumbai. My skills in the craft grew and I realized that I had grown to love working with the material. However, I didn't have the confidence to quit my job; it happened by default when I had my children. It was a very organic shift. By then I had no doubt that ceramic art was what I wanted to explore. I trained at Golden Bridge Pottery, Pondicherry under Ray Meeker, Deborah Smith and Cory Brown, after completing a diploma in ceramics from the L.S. Raheja School of Art, Mumbai.
What is the story behind Tattva Studio?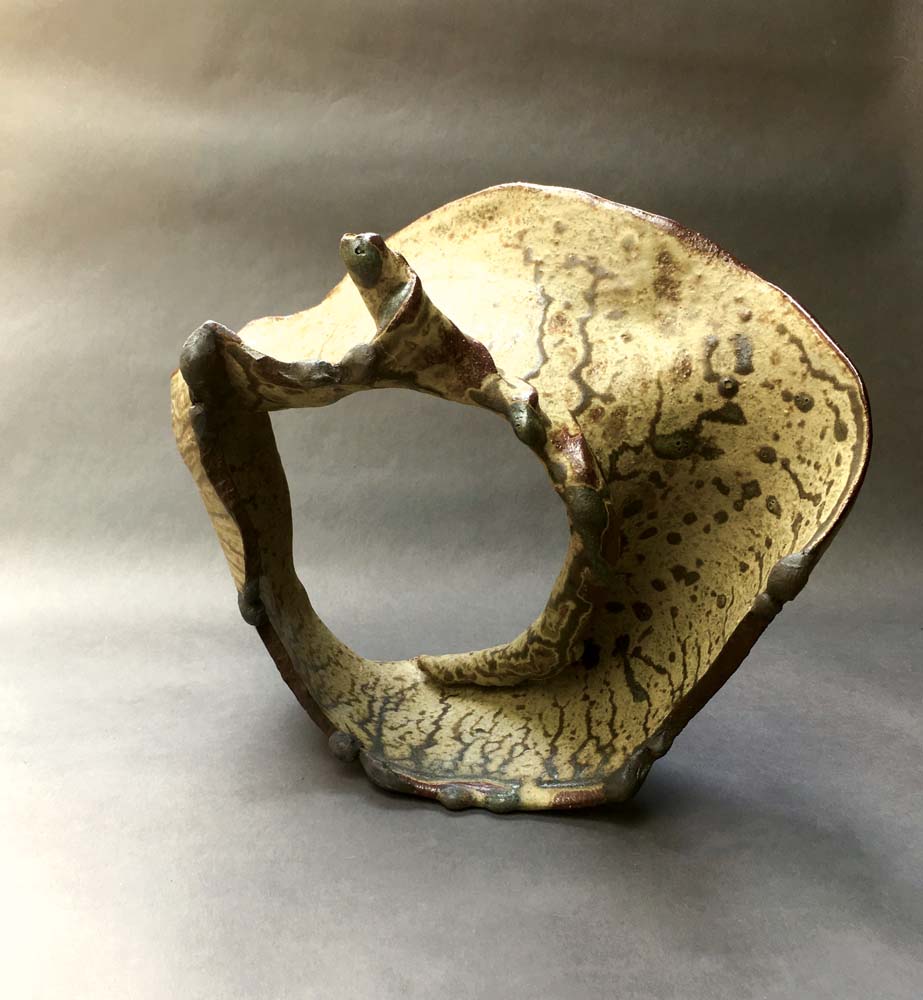 Four years ago I started Tattva Studio in Mumbai. It is primarily a design studio, not just a ceramic studio, since I harbor thoughts of combining ceramics with interior design at some stage. My studio is a space where I go to get away from the pace of the city. I create my sculpture there and I teach there. It is an oasis of calm in my otherwise hectic life. There are lofty dreams for a future where many art forms come together, once I have the luxury of a little more time to myself!
How do you design a sculptural series?
Sculpting with ceramic means that you need to be physically strong, happy with getting your hands and clothes dirty, have a fair sense of spatial reasoning and the fundas of structural stability, fine with spending long stretches of time with just yourself and the clay for company, and curious enough to explore and experiment with various techniques. While designing a sculptural series I generally tend to try and express
an idea or a thought that is fresh in my experience. However, that idea would relate or tie up with a theme that has been running through my mind for a span of time already. So while the process is very organic, I do start with the basics by sketching out my ideas or the structural aspect of a piece before I start to sculpt it.
How do you market and distribute your work?
While it all sounds very exotic, one must know that ceramic work is very hard work. For starters, unlike other art media, it needs a fair bit of capital to set up a studio and ceramics needs a lot of equipment. I am a sculptor at heart and would love to spend all my time just sculpting the many concepts and ideas that are in my head. However, all the capital I have invested in my studio has to be justified and I am constantly on the lookout for avenues where I can sell faster selling objects like tableware. I need to keep reminding myself that marketing my products is as important as making them, if I have to be a sustainable studio. A lot of my energy goes into this aspect, because it is not something that comes naturally to me. I feel that my years in interior design have aided me with being able to handle this efficiently. With sculpture too, I have tried taking hold of the reins by being a curator and organizing shows myself. It is a journey that has just begun and I am all too aware that I have a long way to go. At this point in time it is the process that is fun for me.
What inspires you?
I have been attracted to art and nature ever since I can remember. Over the years I have become passionate about various media, personal expressions, art history and art reflected through culture. My love of nature has led to being aware of global implications related to nature and an exploration of various landscapes through travel. Ever since I was a child, I have been camping in the wilderness with my family and now I am a scuba diver. Nature and art is the basis of it all. Whether I'm exploring an interesting use for a piece of textile that I have come across, or attempting to go organic, it all stems from these two loves.
Has it been a challenging journey so far?
I have managed to accomplish a fair amount in my as yet short stint in ceramics, not because of my ambition as much as the opportunities being presented to me. And yet, every event has been a challenge in terms of time management. The greatest challenge is distributing my time between my children and my work. It takes away all my energy. But having a studio where I can work without interruptions and with a sense of calm has been the biggest boon. Another challenge is working with the community of artists around me. As artists, all of us tend to work individually and form our own aura of energy. To get a group of such people to work without static is another challenge, myself included. I do not see myself as a people's person. I am very involved with myself. What I have learnt through this is that one must keep working without worrying about the outcome. The process is what is enjoyable. When one works with complete engagement and commitment towards a project, the outcome will invariably be good, so the result shouldn't be what drives you. Also, the opinions of others during the process should be irrelevant, in that they should not affect your state of mind. The joy and satisfaction derived from the process is what counts. To maintain this train of working is a challenge too, even though it is something I strongly believe in.
What do you consider your greatest achievements?
My biggest achievement was to be able to spend seven months in Pondicherry, with two toddlers, aged two and three years at the time, and my golden retriever, fine tuning my skills in the craft and learning about wood firing. I had such immense support from my family, which is why I was able to accomplish this. I attribute this success to the 4 M's in my life – my man, my mother, my mother-in-law and my maid!
I do not consider myself an ambitious person, but when opportunities present themselves, I feel it would be foolish not to capitalize on them. I decided to try my hand at curating a show in my second year of starting out and thanks to my work experience I was able to successfully pull it off. It has opened up a new avenue of art for me – curation. I intend to pursue that vertical too and feel a sense of accomplishment in it. I am currently gearing up for the opening of five ceramic shows that will simultaneously open in Jaipur during the Indian Ceramic Triennale in September. The event, which is called 'terra whirl', was conceptualized and curated by me and will be handled by my co-curators. This is a huge achievement for ceramics.
What would you advise an aspiring ceramist?
I feel that people pursuing the craft must make sure their skills are in the right place. Just being able to make a pot is not enough. It needs to have the esthetic and functional value that would make it a work of art. To be a ceramist, one needs to invest a lot of capital in a studio space and the equipment, so one must be convinced of it as an investment before getting into it. The returns from the craft are more internal than monetary, and it takes many years to be able to get yourself into a space where you are earning enough off it. Doing the appropriate case studies of how studios function, whether they are individual studio potters or a production pottery, is essential. Lastly, be prepared to work hard, only then can you follow your dream.
This article was originally published in POOL 97.
Subscribe to POOL Magazine, and stay in the know of all what matters in Indian Design today!
Tags: ceramic art, ceramic artist, ceramicist, ceramics, ceramist, indian ceramics, Shayonti Salvi