Ceramic artist Shweta Mansingka's creative journey involves tapping into her inner consciousness 
When did your fascination for clay begin?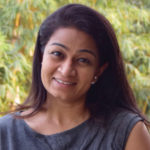 I love how an author/artist/philosopher's thoughts can be the catalyst to provoke another person to reflect, delve or rediscover facets of life they may otherwise have overlooked. Growing up I admired the works of Rodin and Brancusi, expressing timelessly through their sculptures, reaching across decades and resonating with generations of viewers. Chancing upon the thought-provoking works of Joseph Bofill filled me with wonder, impacting my life and world.
It was a blessing that clay found me in 1989. I started training with Shri Ram Kumar Manna in Calcutta. My sculptures bordered on the abstract, leaving much unsaid, trying to express intangible thoughts or intensely felt emotions through the silent voice of clay.
I used to go for many classical music/dance performances and what fascinated me deeply was the rapture in the expressions of the performing artist when they lost themselves to their art – almost going beyond themselves to connect to a higher creative energy. This resulted in a series of terracotta sculptures including 'Silent melody' and 'We dance… to a whispered voice' for my first solo show at the Birla Academy of Fine Arts in 1995. 
What is the significance of a mentor in an artist's career?
The teachers who came into my world have enriched my path way beyond their fields of expertise. Words are not enough to express the gratitude I feel towards them. I was fortunate to train personally under Shri Ram Manna for five years. He is the epitome of humility, ginormous in his skills and pure intention to impart knowledge openly without needing to withhold any of his techniques or skills. I am forever indebted to him for his teachings being the foundations of my ceramic journey.
Shri Devi Prashadji, or Devida as we all called him, was another remarkable influence on my work and life. Being a part of his 'potters' family' in New Delhi taught us to be independent. He armed us with a deeper understanding of our materials, engraining in us a deep respect for clay. Under his guidance, I started working with stoneware on the wheel, learning more about kilns and glazing. From making our own clay to recycling it, firing to troubleshooting, we did it all ourselves. The learning was tremendous, and the experience gave me the confidence to set up my own studio –Soham – in New Delhi in 1999. 
How important are tool and kiln making skills for a ceramic artist? 
When we made our own tools and kiln, it gave us the advantage of sensitizing us, giving us a deeper understanding of our equipment, especially our kilns. However, nowadays much more is readily available to ceramic artists, and online information helps benefit from other artists' experiences.  
How do you come up with a collection?
The creative process for me has been a deep conversation with silence. My work responds to ideologies or philosophies that prod me to introspect, mulling deeper, pushing me gently to explore the multifaceted layers under the water washed landscape of life and living.
When a curator gives a theme or curatorial note for an upcoming show I work keeping that in mind, using my techniques or style of firing to express my perspective of it. Most of the works are a grateful acknowledgment of our higher inner self/consciousness or a humble tribute to nature, its egoless resilience and its magnanimity to give unconditionally.
Tell us about the alternative-firing techniques that you use.
In the Naked Raku and the Saggar firing techniques that I do, the surface of the clay is meticulously polished/burnished to bring out its inherent shine. It is then put through many drastic processes and survives immense thermal shock. It's the unpredictable dance of fire and smoke that leave its markings on the final artwork, making each piece unique. The process resonates with my fascination for removing external layers, purifying to rediscover what's inherently within.
When did you start experimenting with bronze sculpture?
Since 2016, I have been working on converting some of my earliest terracotta sculptures into bronze renditions using the lost wax process. Some of them are still works in progress. 
How do you balance creativity with the commercial side of your work?
The process of creation is my self-rewarding passion. The joy for me is in the conception and implementation of the creative process. Honestly, I struggle to cope with the commercial aspects of my work; however, I treat it as a learning, something that forces me to get outside my comfort zone.
What role do awards play in an artist's success?
In all humility, I don't believe awards define us or our work, but they do get our work more visibility. It's very rewarding as an artist when our work actually connects and is enjoyed by someone.
Have you encountered many challenges along your journey? 
Due to lack of uniformity in raw materials, we have to test and adapt to every fresh batch purchased. However, there's learning in this unpredictable experimentation too.
I love this creative process, am absorbed passionately by it so maybe my biggest challenge is time. I wish I had even more time, there's so much more to be done…
Where do you see ceramic art in India heading?
With every passing decade ceramics has been finding its voice, stronger and louder, in the Indian art world. It is wonderful to see it getting more recognition now.  I believe it's going to reach the stars… the fabulous quality of ceramic artworks in India is mind-blowing.
Please share your aspirations. 
God willing, this creative energy will flow through me till the day I die. The journey continues…
This article was originally published in POOL 105.
Subscribe to POOL Magazine, and stay in the know of all what matters in Indian Design today!
Tags: ceramic art, ceramic artist, ceramics, ceramist, indian ceramics, Shweta Mansingka