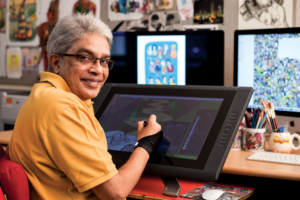 More than 18 years in the animation industry have equipped Phani Tetali with the skills to be an accomplished academic.
He joined academics so he could, in his own humble way, contribute towards creating animators who could take the industry forward. Since 2009, Phani has been a faculty member at IDC, IIT Bombay, where he teaches animation design, game design, drawing, character design and sequential story telling (comic books and graphic novels).
"As a teacher, the best recognition one could expect is from one's students", he says. "I was recently given the 'Excellence in Teaching' award by IIT Bombay and it is such a humbling feeling. These recognitions help motivate me to work harder."
In his opinion, to bridge the gap between industry and design education design schools have to encourage and incubate new entrepreneurship ideas:
"They have to hire faculty with substantial industry experience and/or have visiting faculty from the industry regularly conduct case studies and workshops. The industry should actively collaborate with academic research institutions on projects that are impactful innovations."
"The biggest challenge for teachers these days, – Phani believes, – is that the best of information from the best in the field is already available for students on the internet. So the teacher is really not there to give that information to the students. The teacher should be more of a facilitator and a means to help learning happen.

I foresee design education shifting from a teacher-student transaction to a mentor-mentee transaction. Teaching might happen in classrooms, but it is not necessary that learning will also happen in classrooms. I believe that much of the learning happens through interactions with people. I feel that the teaching component should reduce in design schools, and more time should be made available to the students for exploration, discourses, discussion, research and projects."
"For a cartoonist especially, the ability to write your ideas in a brief, crisp and humorous way is very important", he advises everyone pursuing career in animation. "Good drafting skills add to the story, so keep practicing. Maintain a sketchbook and carry it with you at all times. Jot down/sketch any idea that occurs to you. The best ideas strike at the oddest of times!"
Read this story in POOL 89.
Tags: Animation, Design education, IIT IDC Bombay, Phani Tetali, POOL 89, POOL Magazine