Being able to create enduring stories for fabric is what drives illustrator and visual artist Priyanka Sachdev to pick up her pen
What has been the most challenging part of your role as Chief Illustrator at Quirk Box Design Studio?
Quirk Box is an art label and not just a fashion label, and it is always a struggle to explain the meaning of the term 'original art'. We often get asked where we 'got' the printed fabric from. There continues to be a gap in the understanding of the concept of 'original art' that has been created from scratch by our designers in-house. The fashion market is a volatile, constantly evolving one and it is extremely important to keep in mind the current trends across the season. Also, being an art label in India, we have to understand the psychology of the audience in terms of what colors and imagery they will be open to wearing. There are certain boundaries that we have to observe with respect to people's cultural sentiments and beliefs while designing wearable art. At the end of the day, it is as much a challenge as it is exciting to be able to create an artwork that will become a part of people's wardrobes, making them real life canvases for the art that we create every day. There is no greater satisfaction than being able to do this every day!
What is your approach to designing a collection?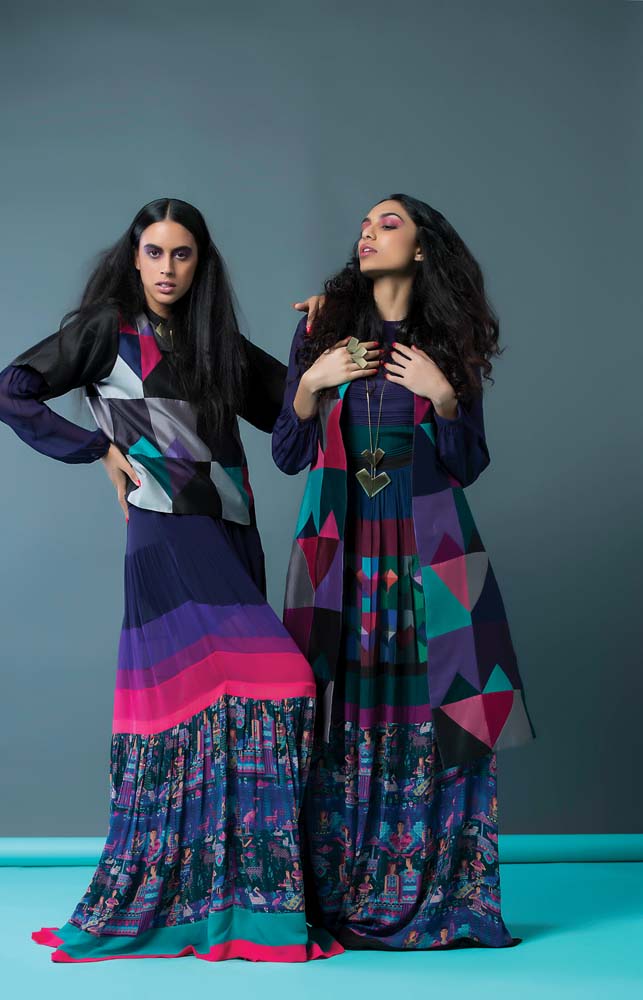 Essentially being a wearable art label, the print at Quirk Box forms the most essential part of the clothes we create. While designing a collection, the basic theme of the collection is first established. We always have a concept and story for the collections we create. Once the inspiration for the collection has been collected and a feel and tone has been established, we begin designing a series of multiple prints for the collection. The first thing that is completed for the collection is the prints. These prints then determine the colors to be used in the clothes; they go on to form the details in the surface textile detailing on the clothes and determine the basic esthetic on the collection. Once the prints are ready, we go into sampling and printing on different fabrics. The fabrics then get made into the silhouettes that form the fashion collection. The collection is then photographed and ready for retail!
How do you look for narratives?
Having a strong base in Indian classical dance, stories from Indian mythology have been an extremely important part of my life since childhood. Having portrayed all these characters since I was little, I feel like I grew up knowing them, their moods, their nuances and stories from their lives. Even at home, along with western fairytales like Snow White and Cinderella, my parents inculcated in me a love for stories from the Ramayan and the Mahabharat. My love for Indian Mythology and its characters comes largely from these two major influences on my life.
Left to my own devices, I always tend to seek inspiration from narratives from Indian mythology. Over time, I have begun consciously bringing it into my personal projects because I increasingly feel the need to keep these stories alive in today's world. Through an illustration style that is relatable in today's world, I've been making a small attempt to preserve these stories and create an interest in a new generation of parents and kids alike.
Picking a particular incident to work with depends a lot on my target audience, the relevance of the subject to what I'm working on, and I guess to some level the excitement and interest it sparks in me as an artist! I always start off wide and have to condense it down to a point where it's a concise and workable concept. For the ideas edited out though, there is always another time to be inspired again!
Share your experience of working with various brands.
We have been collaborating with multiple brands to extend the Quirk Box visual esthetic through different mediums. As a multi service design studio, we offer the same philosophy and principle of original art and design and strong esthetic essence that is no longer limited to our in-house label, but to anyone that would like to hire our services. Having worked with fashion, art, graphic design, branding, advertising, space design, we offer brands a design language that they need, keeping intact the graphic art and playful sophistication that defines our essence. As creatives, it is a welcome challenge to extend our sensibilities to fit the needs of a varied range of clients.
What drew you to an illustration major after graduating in textile design?
I have a Bachelor's Diploma in Textile Design from Srishti Institute of Art, Design and Technology. All through my years at Srishti, I was drawn towards the medium of printed textiles. Whether it was physically screen printing the fabric to create a manual repeat of the patterns or digitally printing artworks on fabric, I would always be more interested in creating the print for the textile. All my print collections in my college portfolio reflect this love for illustrating a story through the medium of textile.
Being able to work with Quirk Box actually married that love for illustration, print and textile. Quirk Box calls itself an art label, not just a fashion label. All the artwork made for the fashion collection is illustrated in house, specific to each collection. Through my initial time at Quirk Box and the nature of work that I got to do, realization dawned that I was more an illustrator than a textile designer, leading me to pursue a Master's degree from London College of Communication, with Illustration and Visual Media as my major.
What is the story behind Leela?
Through Leela I have explored the idea of a telling a story on a sari. Leela was born from my graduation project at Srishti, which was a 12-meter long sari depicting the 'Vastraharan of Draupadi'. This sari was more an installation art piece. As part of Leela, I created a capsule collection of five stories on saris, all related to the women who played an important role in the life of Krishna. Each sari became a piece of wearable art, with an ancient story to tell.
Which other memorable projects have you worked on?
Most definitely, the collections that were conceptualized and created for Lakme Fashion Week have been a highlight for me and it is an experience and thrill that never gets old. Prints for the Wanderlust Spring Summer Collection and Love Story Autumn Winter collections at Quirk Box are two of my personal favorites. The collection is conceptualized and then goes through a long extensive process every season from conception through different processes and final execution. It is always exciting to see the final outcome on the ramp on Show day.
A few years ago, we also created a real time mosaic installation in collaboration with Vogue for the India Art Fair, Delhi. This was an interactive installation where people could come and add a tile of color to the mosaic to finally form the image of Frida Kahlo.
More recently, it has been exciting to work on a collaboration with Vans, to create limited edition, custom, hand painted original art sneakers. Going back to the basics of paints and brushes was a refreshing change in the digital era today!
How was it to work with fashion labels like KaSha?
Having graduated as a textile designer, but working as an artist and illustrator, it has been an exciting journey collaborating with fashion labels in India. I briefly interned with KaSha, experimenting with some tie and dye techniques as well as creating a series of motifs and patterns for one of her early collections. With Quirk Box, it was an interesting journey of learning how to develop a print specifically for fashion. Being a label that creates 'wearable art', the print was as important if not more important than the silhouette of the garment. Not all illustrations, color palettes and designs can work as well on a garment as they do on paper. As an artist though, it is a highly satisfying feeling to see your designs on the ramp at fashion week even if the show gets over in a matter of minutes! When you graduate from design school, you are equipped with a certain skill set – working with these labels taught me how to effectively add to and apply that skill set in a field that I had no prior knowledge of.
What role has formal design education played in your career?
A formal design education gives you a controlled creative space for the duration of your study to explore your strengths and weaknesses as a designer in real time projects; it gives you a chance to learn from creative professionals who are masters in their field. You get to dabble with multiple avenues before you pick your field of expertise and understand basic concepts that form an integral part of the design process.
What's next?
As an artist, I am always looking forward to more collaborative projects that challenge me to create new concepts. I hope to constantly be inspired and creatively stimulated, to be able to work with new exciting clients and create good work. I'd like to look back every day and feel like I'm a better artist today than I was before!
This article was originally published in POOL 105.
Subscribe to POOL Magazine, and stay in the know of all what matters in Indian Design today!

Tags: Illustration art, Illustrations, illustrator, Indian illustrator, Priyanka Sachdev, Visual Art