Three young architects from India – Shruthi Ramakrishna, Agnimitra Bachi, and Ajinkya Unhale – and one urban systems engineer from France, Jeremie Gaudin, give expression to their passion for working with natural materials through the Bangalore- based Made In Earth Collective
What led to the formation of Made In Earth Collective?
SR: All four of us have followed different paths during our studies, work and volunteer experiences but something became very clear when we met and then started working together – now it's only Sustainable Architecture for us. We believe that a sustainable approach to creating buildings is no more an option; it is a necessity and a joy to make things as meaningful and natural as possible, in their context. Instead of seeing the use of local and natural materials as a limitation to architecture, we look at it as an infinite realm of possibilities.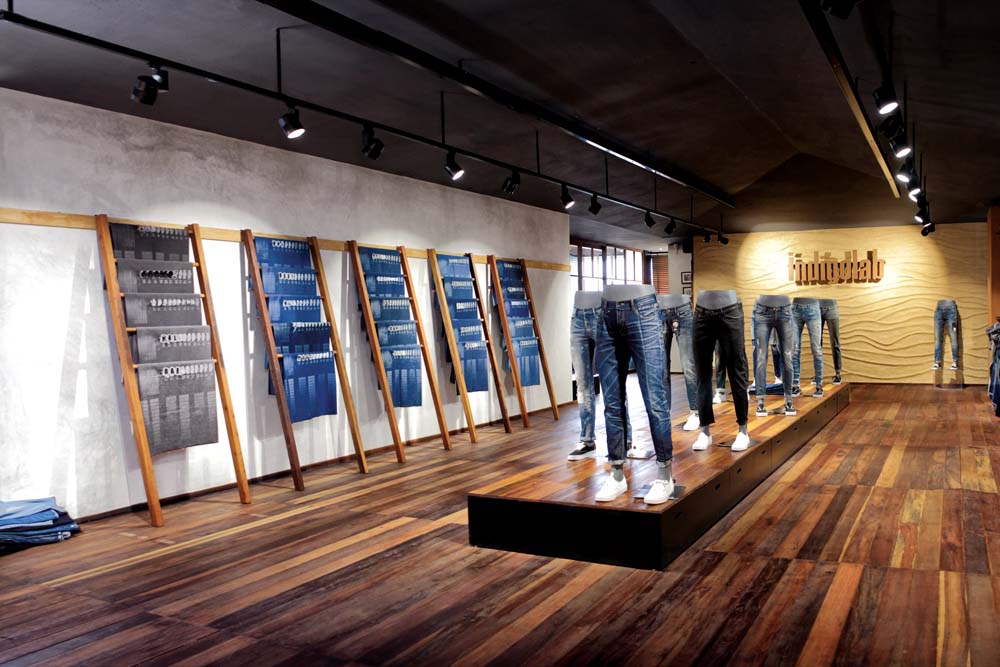 We officially started the studio in Bangalore in 2015 but the idea of Made In Earth had been brewing in us for quite some time. Much of our work and the way it has evolved has been shaped by this city and its people. We knew that we wanted our work to be rooted in an urban context, and we love the challenges of bringing natural materials closer to people, rendering our traditional techniques to newer aspirations and lifestyles. What drives us is to make these techniques both desirable and competitive, culturally and economically for our clients and contractors alike. We like to see our design approach as a dialogue with natural materials like clay, lime, wood, straw and stone. With a taste for experimentation and innovation, our practice is focused on creating contemporary expressions that are both elemental and eco-friendly.
So, what brought you all together?
JG: When we met at the Auroville Earth Institute way back in 2008, Shruthi and I knew that we wanted to start our own studio together someday, though we did not really know what shape to give it. Both of us went on to work with various organizations in both India and France, always with a proximity to earth, sustainable practices and entrepreneurship. Through the last decade, there has been so much inspiration from our learnings with the Auroville Earth Institute, the Touraterre association and Inventerre team in France; the Oficinas do Convento in Portugal; and the rich network of organizations in Kachchh like Khamir, Hunnarshala and Sahjeevan. The hundreds of conversations with the artisans of Kachchh really convinced me of the necessity to bring back some soul in our lives at every level and where there is a soul, there is sustainability. I feel Made in Earth was born somewhere along the way and is a continuation of it all.
SR: Made In Earth is not a unique idea. It is all around us. Individuals and groups across our country and the world are working towards it – from food to health care, clothing to energy, buildings to beauty. We are part of this movement of individuals and collectives who want to explore and create; taking inspiration from the past, questioning the present and thinking for the future.
AU: There are some realizations that one just can't come back from. Sustainability to me was a sort of obvious solution to a problem that is staring at humanity in the face. The choice of earth or other alternate sustainable building materials was something that came out of a very simple and blatant realization of what is good or bad for the environment. I joined Made in Earth a few years ago. When I first met Jeremie in Auroville ten years ago, we discovered that we had similar ideas when it came to the way buildings function and the impact that smart design and right materials have on the livability of spaces. We often spoke about the idea of having a practice where a lot of research was carried out on the various building materials and systems and how all of that data could be used to design better and smarter. And today at Made In Earth, it is one of our core concerns.
AB: I met the other three on one of the first few workshops they organized. It was set in the Thiruvannamalai hills, at the edge of a forest, and volunteers from all over had poured in to build a forest school. It was here that I first experienced building with earth. In the two weeks together, we molded bricks, mixed mortar and built a forest school! The tactility and nuances of the material caught my imagination. Knee deep in a pit of earth mortar I realized that there was no looking back. On returning to Bangalore, Jeremie, Shruthi and I were to realize how in sync our ideology and aspirations were. Over weeks of conversation we built a rapport so strong that it still seems too good to be true. Three years on, it still feels like a dream.
How would you describe your philosophy?
SR: There are two fundamental directions that drive our studio. Firstly, you must really 'know' your material, and become friends with it. We are constantly experimenting with new materials and new techniques, especially with earth. For example, all of the natural finishes we propose for our projects go through an intensive sampling process. Secondly, you must get your hands dirty. We often dive into the construction site ourselves, both to try out new techniques as well as to train our mason teams. Both these approaches feed into our design process, allowing us to constantly revise and reinterpret materials and techniques, and personalize our projects.
We believe in an architecture that is simple; created with an understanding of the climate and the soil on which it exists; with an exploration of the materials from its place; and in collaboration with the skills and the imagination of its people. The words sustainable, green, and eco-friendly are now omnipresent in our lives to a point where it becomes increasingly difficult to distinguish the wheat from the weeds.
We like to root our approach to sustainability in the early development of this concept by the economist René Passet in 1979; a design which is at the confluence between social, economic and environmental factors. A local material like earth is abundantly available and therefore can be mined in a way that doesn't harm the eco-system. In fact, our preferred source of soil is from de-silting of lakes which has a positive environmental impact. Earth building techniques are often labor intensive while consuming very little fossil / non renewable energy. This provides employment, positive social and economical impact while reducing the greenhouse gases emission. Earth, being a natural and chemical free material, is beneficial for the health of the future occupants as well as the workers involved in the construction.
With construction costs going through the roof, and the scarcity of material resources, it is only sensible that we practice context driven architecture with local materials and building techniques. Ultimately, the esthetics, longevity and ease of maintenance of the building are for us equally essential parameters to promote architecture of a lower impact on the environment as a viable and desirable alternative to the conventional approach to construction.
What are your individual roles in the collective?
JG: Being a small firm, each of has an array of responsibilities. While most decisions are taken collectively, we do play on our individual strengths to handle different aspects of our work. Equipped with an intuitive understanding of earth, Shruthi has a deep seated understanding of esthetics. She has a knack for creation and works closely with Ajinkya in the initial concept development of the projects. Pragmatism is Ajinkya's strong suit. His knowledge of conventions in the building industry and understanding of feasibility clubbed with his keen eye for details help him translate and resolve design into beautiful buildings.
I seem to have an intrinsic and empirical understanding of materiality. I love exploring and am constantly trying to innovate and research new materials and techniques. Having been educated as an urban systems engineer, I am keen on setting up processes and protocols for the site; I also work on the internal organization of the office.
Agnimitra's passion for natural materials bleeds into our building sites! He is the choreographer that brings together all the teams and the techniques we explore, to ultimately translate a drawing into reality. His patience, humor and care for others are essential to keep a good spirit and atmosphere on site and with the people we work with.
Which natural materials do you most often work with?
SR: Clay and lime bind our studio together. Additionally, we often bring wood, stone, fly ash, straw, rice rusk, and thatch into our projects. We love to combine these materials together with concrete, steel, glass and ceramics. There is a place for all of these materials, and when applied with imagination, and in the right context, they come together to create an architecture that is both responsible and beautiful. Natural plasters and finishes made of lime clay are more healthy and eco-friendly. They create a breathable finish material with a natural capacity to regulate moisture and temperature in the surrounding air.
Which have been your most memorable projects?
JG: Of the early projects, the Cuckoo Forest School stands out in many ways. It was the coming together of more than 30 people for 15 days to build a library for the Cuckoo Forest School, in Thiruvannamalai. Being out of range of cellular network, away from the din of the city, at the edge of a reserve forest and in the lap of the Javadu hills was just the base of what was to be a magical experience. The group was an eclectic mix of people from the software industry, designers, farmers, journalists, artists, architects and much more. We all had to stay on the then barren farm, set up the first of the shelters for the volunteers to stay in, and then design and build a small library structure with earth.
The days of hard labor, the music, dance and theater of the nights, sleeping in the open and waiting for the full moon to rise behind the hills were experiences that pulled the group closer in more ways than one. It was another beginning of a conversation with earth, and the communities that we would engage with. It was an experience that served as a compass and guided us through the next stretch of winding roads through the world of earth architecture.
While embracing a way of building that is unusual, in the true sense of that word, we have been fortunate to have clients whose outlook and aspirations match ours to a large extent. While trying to match our esthetics and spatial ideas with our clients is one small part of the design process, it is essential that our clients resonate with our building values and material values and ethics. In this regard, the design process for the college campus of the Samvada Baduku Community College stands distinct in our memories. Samvada is a non-governmental organization that works with disadvantaged youth to help sensitize and empower them. The site is set on a beautiful hillock. Through the many interactions with their team about the design and strategy of handling the project, it became evident that not only were they sensitive to the environmental and economical impacts of the project, but they were also keen to address social, health, welfare aspects at the building site and construction process. While this encouraged and boosted our spirits, it also helped create avenues and opportunities for our design and site teams to address issues from the very beginning of the process. The relationship with a client who is in sync with our beliefs and values acts as a central tenet around which we can work and implement our ideas on sustainability and earth.
What challenges has your team faced so far?
SR: While there is no dearth of curiosity, there is still a hesitation for building with earth. Everybody is concerned with the strengths and durability of earth as a construction material. So the cultural, pedagogical, technological and ecological stakes involved in building with natural materials is a continuous challenge for us. For decades, architects have been viewing these materials from a distance, critically waiting and watching those few early projects by those who have had the conviction to build with them for the last three decades. We however feel that today it is no longer a question of strength and solidity. The challenge is
to make these materials and techniques equally competitive in the construction industry in terms of economy and time. So we consistently look at our processes, both on and off site in an inventive way. We approach every new project as a question; and our architecture is born as a response to 'What is the most ecological way to make it happen?'
Another challenge we face daily is the lack of skilled labor and ability to follow drawings and details which are non standard. We have to build capacity within our team to tackle this by mainly learning all these techniques ourselves and training the team on site. It also means a much bigger presence on site for things to happen as designed.
What's next?
SR: We are very thankful to all the people who have given us the opportunity to explore the possibilities of sustainable architecture and construction with them. We look forward to building more and more public spaces, schools, colleges, hospitals, etc. as landmarks for people to discover these alternatives as a viable and desirable option for all. We hope to become a vector for reinforcing and nurturing the bold future of Earth in Architecture.
This story was originally published in POOL 97.
Subscribe to POOL Magazine, and stay in the know of all what matters in Indian Design today!
Tags: Agnimitra Bachi, Ajinkya Unhale, Architecture, architecture design, Jeremie Gaudin, Made In Earth Collective, Shruthi Ramakrishna, sustainability, Sustainable Architecture, Sustainable buildings