Ashiesh Shah believes that nothing is permanent, finished or perfect – a philosophy he brings to his architecture and interior design practice with great success
What role has formal design education played in your career?
After studying architecture at Rachana Sansad – Academy of Architecture in Mumbai, I went on to Parsons School of Design, New York for a degree in Interiors and Architecture. I worked in New York for several years before moving back to Mumbai in 2006. My time there was an incredible learning experience and proved to be an introductory course into the practicalities of an architectural practice. There are several aspects of the profession that are impossible to learn in university and I think my time there was very important in shaping everything from my approach to design to what inspires me.
Whilst I was in New York, I had the opportunity to redesign my friend's loft space. She was studying fashion technology at the time and wanted the space to act both as a studio and home. The apartment needed a full scale renovation and was far beyond the point of limited interventions and upgrades. Not only is this my favorite memory of the city, but it helped me develop my language and find learning about my esthetic and capabilities early on.
What did it take to establish your own architecture +interiors practice?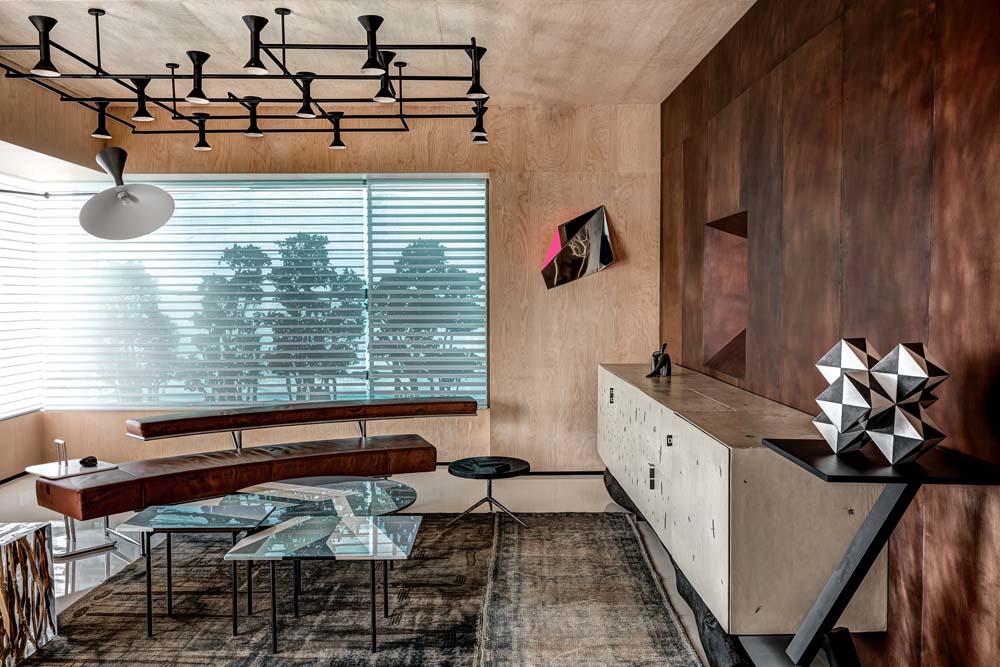 As with everything that stems from forging an identity of your own, to making your work stand out and leaving an impact, it initially took me some time to find my personal visual language. Interior design and related practices have often been dismissed as something inconsequential here in India and that's where the challenge lay. The scope of growth here in Mumbai was inviting but establishing myself at the forefront of a change of perspective was not easy. When I first started out eight years ago, my focus was predominantly on the interior design of homes. While the work was immensely satisfying and garnered a lot of positive feedback, it was limited in its access, in the number of people who got to experience and engage with my work. I think, therefore, it was projects like high-end store Le Mill and the fine-dining restaurant Nido (both in Mumbai) that really helped bring my work onto a more public platform. It was the first time that a wider audience was able to really experience my work. For me, that was an important hurdle to cross.
Which projects have had the most impact on you so far?
It's hard to pick one, but 'Masque' has always been one of my favorite spaces. Occupying an old warehouse in Mumbai's once buzzing cotton district, the restaurant is a play of materials and form. Tapping into the natural architecture of the space itself, forms appear and disappear. The natural light floods in from the skylight above and illuminates the floor, part white polished marble, part textured slate. Many elements that might be considered 'de rigueur' in most luxury restaurants are ditched in favor of bare natural materials. The use of hard wood tables, brass structures and stone clad walls and floor mirror the chef's approach to naturally sourced and foraged ingredients.
How would you describe your style?  Introduce us to 'wabi-sabi' esthetics.
Geometry, right from the start, has always been an important element in my practice, and is often the point of departure for my designs. I've also been exploring the concept of wabi-sabi for several years. Derived from Buddhist teachings, wabi-sabi is an ancient Japanese concept of balancing elements. Asymmetry and asperity play a major role in my practice, a philosophy that wabi-sabi amalgamates. The esthetic is described as beauty that is imperfect, impermanent, and incomplete. I don't make a special effort to bring wabi-sabi to my practice, but if you look at my spaces, you see that element of finished and unfinished. I appreciate spaces that incorporate natural objects and processes and I try to maintain this principle in my own practice. Nothing is permanent, nothing is finished and nothing is perfect.
How do you balance functionality and esthetics?
I think this depends on the homeowner and what they need from their space. I've seen a lot of clients looking for a more minimal lifestyle of 'less is more'. That being said, urban living needs to be multipurpose for modern families; the space needs to be very versatile and dynamic, a balance between esthetics and functionality.
What has been the most challenging brief you ever received?
It's really hard to choose one defining project, but if I had to, it would be my home. It is an expression of what I do and who I am. I feel like it was mine from start to finish. I have worked on some very exciting projects, with clients who were keen to experiment, but when you're designing your own home, you experience an artistic freedom. But as a designer, I found it quite challenging to design something for myself. I wanted to create a space that would evolve with me and my practice. I wanted to create a space that was versatile and a constant work in progress.
Tell us about your recent foray into product design.
Apart from interior architecture, product design has always been one of my passions. I see so much of design and product on a daily basis while working on projects, at fairs, on design blogs and websites that it's just become a part of my everyday process. I've also always custom designed products such as lighting, furniture and tiles for the various projects I'm working on so it only seemed like the right choice to take it to the next step. Making the jump from interiors to product design was a natural progression. On some level, I always knew I wanted to foray into product design, I was just waiting for the right platform and my Atelier is definitely my passion coming to reality today. Started earlier this year, Atelier Ashiesh Shah is a space for design thinkers and doers – a creative think-tank. It will engage in an exploration of design through traditional Indian handicrafts and a modern esthetic fused together to provide function.
Tell us about your other design-related activities.
I've always been passionate about writing and reading design magazines throughout my time at Parsons, something that I'm glad I could continue throughout my design journey. I am a contributing editor to Vogue, and regularly write about interiors and design for various publications.
I also fronted a TV show called Design HQ, which featured the who's who of Bollywood, from Hrithik Roshan, Aditya Roy Kapur, and Jacqueline Fernandez to Abu Jani and Sandeep Khosla, Masaba Gupta, and Pernia Qureshi. The homes we featured re as much a reflection of the celebrity in the limelight as they are about the private person. Championing interior design is at the core of Design HQ and pondering over the little-known design interventions in celebrity homes is what the episodes intended to do.
Why do you call yourself an 'eclectic collector' of art?
I initially collected Indian moderns. Having grown up in Mumbai, I easily related to artists like FN Souza and the Progressives. But gradually, I began collecting contemporary art, in terms of its concerns; I felt like they were relevant and ultimately reflected those of my generation.
I call myself an 'eclectic collector' purely because my collection includes works by established international artists; a drawing by Tracey Emin, Ai Weiwei's crystal hanger and photo documentation of Marina Abramovich's early performances. It also includes influential Indian artists like Subodh Gupta, Sudarshan Shetty and Bharti Kher, young contemporary artists like Sahej Rahal and Ayesha Sultana. It debouches with different types of artworks, drawn from different regions of the world. I don't gravitate towards a single style but find myself drawn to the diversity of the art world.
How does a young designer find success in the field of architecture and interiors?
Your work is the only thing that needs to pass the test of time; it's the only thing that lasts.Given that talent is a prerequisite, the only way to success is hard work. And a little secret that will take it easier is the art of managing your time.
This article was originally published in POOL 104.
Subscribe to POOL Magazine, and stay in the know of all what matters in Indian Design today!

Tags: Architect, Architectural Design, Ashiesh Shah, Ashiesh Shah Architecture + Design, interior architect, interior design, Product Design