Graphic designer and illustrator Roshni Merchant teamed
up with designer and sculptor Pritpal Singh to create two vastly different but equally satisfying design entities
What was your introduction to art?
RM: It all started with imaginative doodling in my childhood, which eventually made its way into my study books. It became a very instinctive habit, an obsession almost, to translate my observations or thoughts into something visual. I was always drawn to imagery, color and illustrations. Drawing and making images is a way to explore and express something – it satisfies an impulse that words cannot. My degree in Fine Arts was the starting point, a sneak peek into the world I wanted to be immersed in. While I did not know where it would lead me professionally, I knew this is what I wanted to do.
PS: As a kid, I was always folding paper into fighter jets, illustrating scenes from the stories my mother told me. I was fascinated by the activities that filled our home, with my mother constantly keeping herself busy with art projects, from painting floral patterns on fabric to learning new techniques in weaving and embellishing clothes with colorful motifs. This kept me engaged in the art of creating with the hands.
How did you get to IKM Studios from there?
PS: After working at Thinxworks Pictures Pvt Ltd, I started IKM Studios (Imagination Killed Me) in Bangalore in 2011 – it was born out of the passion to illustrate every idea. At that point of time I was collaborating
with creative agencies, as a studio executing design and illustration work for publication, user interface/experience design for web and mobile platforms. Roshni came on board in 2014 and we expanded our services to branding and environmental graphics. We both had one thing in common – the need to pour our creative energies into making something for ourselves rather than living someone else's dream.
We believe that the root of all creativity begins with an idea being sketched on paper. We use illustration as a method of problem-solving in communication design, environmental graphics, UI/UX design, branding and corporate animated films. We are about celebrating the art of creative design and exploring the convergence of design, story-telling, technology and communication. Working across disciplines and industries, we believe in design being a method of problem solving.
Which have been your most noteworthy projects so far?
We got the opportunity to work on branding and graphics for an Indian restaurant in Qatar called Seven Street. The color palette is inspired from spices and flavors. The logo plays up visual iconography. The graphics is a juxtaposition of kitsch and quirky elements from Indian street food with ethnic patterns and motifs inspired by Indian art and textile. The visual language and style celebrates Indian culture in all its Technicolor glory.
How did Midori Collective come about?
RM: This is where things got interesting. It has always been our dream to translate visual stories into tangible works of art. We wanted to break away from a world of digital chaos and have an appreciation of the real. Midori Collective was set up in Bangalore in mid 2016 out of a need to create something beautiful!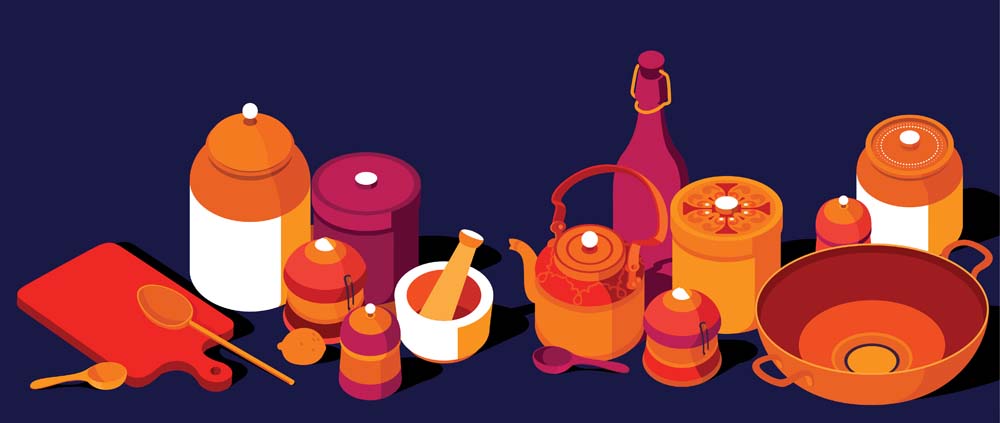 We both played to our strengths, bringing imagery, illustrations and color together with tangible sculptural forms that evoke a sense of whimsy. The idea was born from a series of sketches I had created, which could be translated into functional/wearable art. Transforming these loose drawings into sculptural forms in polymer clay was the first step towards understanding the cycle of product making and playing with material. We fell in love with porcelain as it mimics a true white canvas to express ideas in 3D form. It took us two years of research to learn about the material/process and setting up a studio. 
Describe the Midori style. 
RM: Midori is a story of a little girl who lives in a Technicolor world of disaffected whimsy. She stashes trinkets and keepsakes she finds in her little bundle of memories, not so much because of what they are, but because of what they remind her of. Each product is an extension of Midori's story – characters she encounters on her journey or a part of her surreal world. Inspired by quirky culture, literature and pop art, the concepts have an otherworldly, dreamlike, magical quality to them where anything is possible. The products lie on a fine line between art and design. They are creatively stimulating with a story-telling narrative while being authentic to the process. Every piece is handmade and created in limited quantities. 
What is your approach to designing a collection?
RM: Design affects how we feel and how we behave. The core idea was to communicate a concept through the story of Midori, inspired by her travels and nostalgia. Everything made in the collection has an emotional connect or is linked to a memory and that's what makes each piece special. Each collection is a chapter in Midori's story. The first collection/chapter is called Covetable Curiosities where she discovers her past through who/what she encounters. 
The design process is based on observation, imagination, and execution. It starts with a strategy to put the human experience at the beginning of the design process. Nothing is more exciting than seeing an idea take shape, transforming into something that can align itself to the end-user. When you can look at something and see it for the process it took and not the end result, you have a deeper appreciation for it. Artistic spontaneity is momentary and then it is all about analyzing and resolving. Scribbling down ideas frequently and sketching them help translate thoughts into little visual frames/stories. What we find most helpful is putting together a mind-map of words/phrases to arrive at a concept. Visual examples or a mood board help in getting clarity of the visual language or direction.
What inspires you?
RM: Color is a starting point of inspiration and it's what gets me excited about creating something. It evokes a certain emotion and I try to capture the essence. I love communicating through color; I think it's a language I'm drawn to instantly and helps me express a certain thought or feeling. Working with your hands and creating something from scratch is a more rewarding and intimate process. The unpredictable playfulness gives a sense of not knowing where you're going or what you will land up with. It is the process I find evocative rather than the end result.
PS: I am constantly immersing myself in listening to podcasts or watching documentaries – always on the lookout for new information, even if it's irrelevant to what I'm doing. I sketch to free the mind. It's very difficult for me to conceive of something all at once before starting out a piece of work or a new project. It always changes, allowing the process to surprise me along the way.
What makes your partnership work? 
RM: It is challenging to balance work and play. We both have very distinct ways of expressing ourselves and almost never view a problem/situation the same way. But this contrast in behavior complements our work and help fill in the gaps. We both play to our strengths and have found that as a duo we make a whole, right from concept to execution. 
PS: Shuffling between two ventures is a lot like tight rope walking. It takes a lot of patience, persistence and passion to stand one's ground. But we love what we do and take each day as it comes.
This article was originally published in POOL 102.
Subscribe to POOL Magazine, and stay in the know of all what matters in Indian Design today!
Tags: graphic art, Graphic Design, graphic designer, Illustration, Illustration art, illustrator, Midori Collective, Porcelain art, Porcelain Jewellery, Roshni Merchant & Pritpal Singh