As Principal Designer of one of India's most well known design studios, Mahesh Borse has revolutionized the home décor industry. Decades of experience and a flair for looking beyond textiles to a complete business strategy help him make Mahesh Borse Designs a name to reckon with.
What was your earliest exposure to design?
I belong to Nashik, a small city in Maharashtra. As a child I was always interested in drawing, painting and handicrafts. Many people influenced me in my formative years, including my drawing teachers in school, and some seniors who could draw well. I used to pass a signboard painter on my way to school and I would watch him paint for hours. In those days there were street artists who could draw and colour large images of gods and goddesses on the surfaces of roads with chalk within just a couple of hours. The proportions were perfect. I was really fascinated by this art form.
My maternal grandmother used to do khadi printing (similar to block printing) on old re-dyed saris to earn some additional money to support the family. I often watched her doing it. There were also a few handloom weavers staying near my house in Nashik and I would watch them weave fine cotton saris. These are the early influences that shaped my mind towards pursuing a creative profession.
How did that develop into a passion for weaving?
After my 10th grade examination, my uncle felt my aptitude lay in the creative arts and he suggested I pursue the Foundation Course (Applied Arts) at Sir J.J. School of Arts in Mumbai. During the course I developed an interest in Graphic Design and wanted to join their four-year Applied Arts course. However, due to my family's financial constraints I had to go for a shorter course so that I could get a job fast. My uncle suggested that I take up Textile Design, which was a two-year course. I followed his advice and began my journey towards becoming a professional Textile Designer. I took up weaving as my major and developed a great deal of interest in it. When you see your design being woven on a loom, the feeling is simply magical. After so many years, I still get an adrenalin rush whenever I see a fabric being woven from my design.
What role has formal design education played in your career?
During the final year at J.J., I learnt about National Institute of Design (NID). The economic hardship that I was facing motivated me to do something better – I applied to National Institute of Design and was selected for the post graduate Diploma programme in Textile Design. It was called Advanced Entry Programme (AEP) then. In those days National Institute of Design used to provide a stipend of Rs. 500 per month to all PG students, which was a big help for me. I could not have studied in an institute like National Institute of Design without the stipend.
Education makes a person more refined, and influences his attitude and thinking. My design education changed how I look at life and work. It made me realize the invisible social impact design can create. I learnt that there is more to design than just creating a 'weave' or a 'print'. It involves creating a complete business development strategy.
How did Mahesh Borse Designs come about?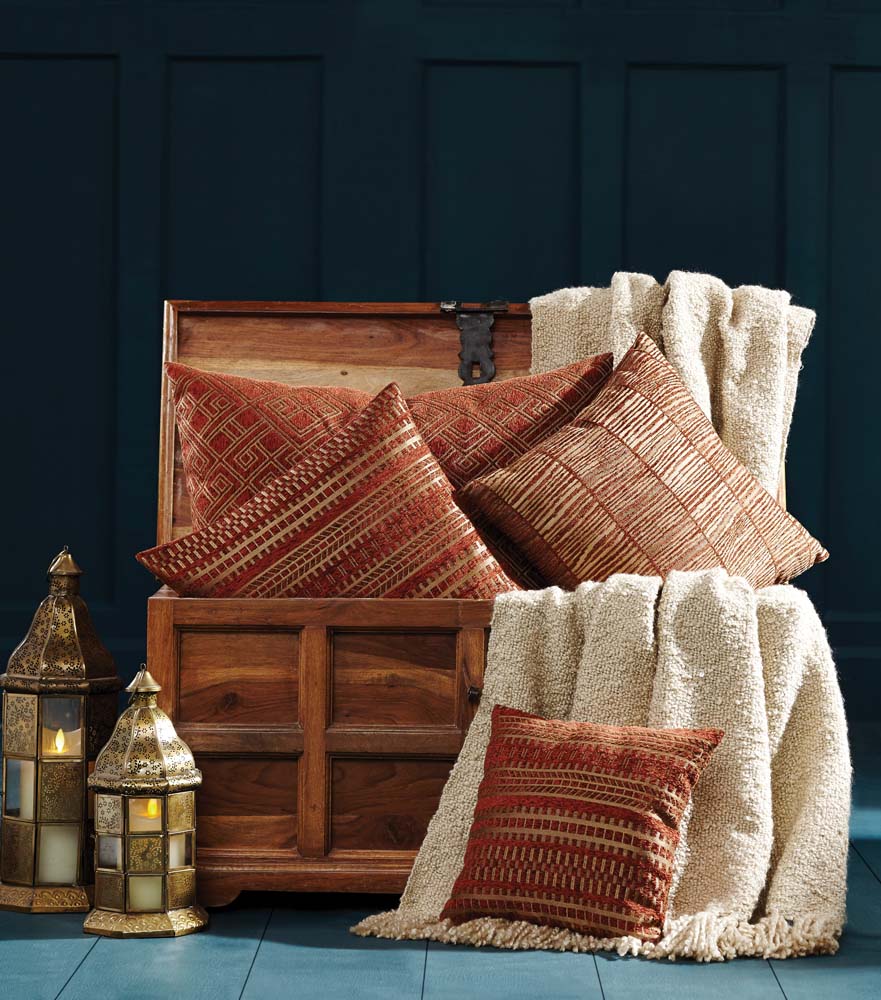 After National Institute of Design, I worked as a freelance designer and retainer for nearly 25 years. I would develop a range of products, guiding the design team at my client's premises. As time went by, things started changing in the home furnishing industry. Clients became more demanding as they faced steep competition from Indian exporters and from other exporting countries such as China, Bangladesh, and Pakistan.
With the emergence of the Internet, things started moving faster than ever before. To keep pace with a constantly changing scenario and demands of the market, I felt the need to set up a fully equipped design studio with a creative team, so that the clients' needs could be attended to on an urgent basis. Mahesh Borse Designs(MBD) came into being in New Delhi in 2010. We offer complete design solutions for the international and domestic textile and home decor industry. MBD has an in-house weaving studio, where we develop woven samples using a variety of yarns sourced from all over India. Developing actual woven samples is a big plus for us, as the client saves time and money. The samples can be sent directly to buyers for their approval.
What does a 'complete design solution' mean in the textile business?
It means formulating a comprehensive design strategy that goes through several processes. It involves careful planning of a product portfolio based on the identified target market, deciding which products to develop at what price point. It involves everything from creating detailed theme boards, color palette, selection of fabrics and patterns to be used, to techniques and finishes to be executed. The next step is to make a finished product and decide how it should be promoted in the market – we advise the client on print media presentations and online presence. Finally, we need to create visual merchandising methods for participation in international trade fairs.
Describe your design approach.
There are three approaches to developing designs in the home furnishing industry for international markets.
First, when a buyer from a particular country requests our client to develop a range of products for his market. In this case, often the buyer sends a brief, which includes the storyboard, color palette, types of patterns and fabrics to be used, and finally the targeted price point. These are generally prepared by their design and marketing team. In that case we just follow the buyer's guidelines and develop the collection.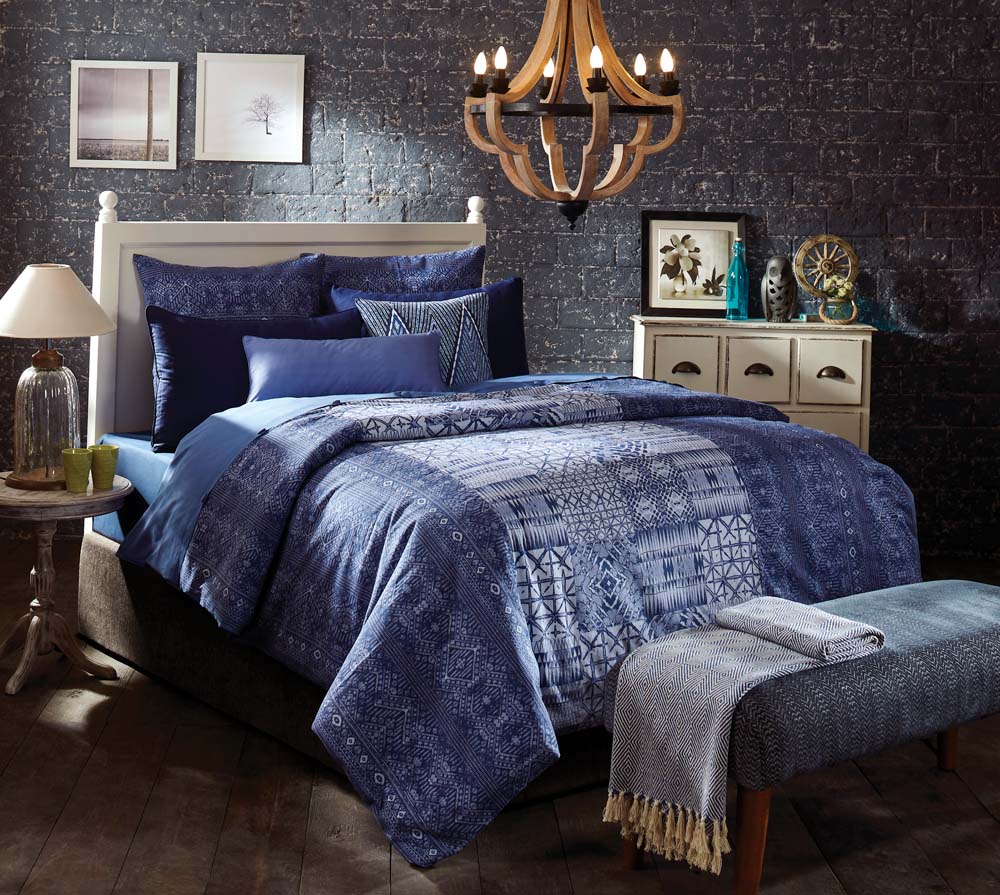 Second,to generate more business, our client and his team might decide to target a particular buyer or a market. Accordingly, they devise a marketing strategy. Our work begins by studying the design language of products that they are selling, their price point, material and color used, etc. Then we research various stores, interior magazines, and online stores of that particular country. We formulate our own theme board that becomes a basis for our product development strategy. Once the designs are developed, they are sent for prototyping. When ready, these are sent to the buyer with detailed specifications.
Third, targeting international trade fairs, the most popular and important one being Heimtextil, Germany. Here, we start planning the collection one and a half years in advance. For example, to launch a new collection for winter 2020, we would start working in July 2019. We carry out a market survey to gather information on possible future market trends. We refer to international color forecasts, attend trade fairs like Maison et Objet, Paris, and visit iconic home furnishing stores for inspiration. We also take inputs from our buyers for their views on future trends. Once we have sufficient data, we analyze it to form our own product development brief. 
Typically, our canvas includes a variety of fabrics, from handloom to the most advanced shuttle-less looms, hand as well as computerized embroideries, hand screen to the latest digital printing techniques, and many other surface ornamentation techniques. These form part of our creative plan, as the collection is aimed at fair participation, where buyers from various countries come with varied requirements.
Once our project plan is ready, we start working on design development, which is a culmination of patterns and weaves developed in the studio, fabrics sourced from the markets, patterns suggested in forecasts, etc. Sometimes our clients also contribute a couple of patterns and weaves from their own sources. Usually we do reverse planning, depending on the number of products to be prepared based on the availability of booth space.
As we develop concepts, we simultaneously finalize designs and send them for prototyping as this is a time-sensitive activity. Once the products are ready, we assess them for any modification that may be necessary. We also design the exhibition booth, keeping in mind the way we want to present the products we have created.
The three cardinal rules we follow for successful textiles products are: Look, Feel and Price. The product must be visually appealing for the buyer to get attracted to it. The tactile feel of the product must be comfortable, as textile products mostly touch the human skin, requiring tenderness. If the product looks good, but does not feel good then it will not sell. Finally, the product must be priced competitively to be able to sell.
What goes into production of high quality textiles?
Quality is not an accident. When one pays attention to each and every aspect of the production process, a good quality product is bound to emerge. For high quality textiles, the process starts from selecting the right type of fiber for spinning the yarn – finer the yarn better the quality of fabric. The dyeing must be done well, the printing needs to be accurate, the embroidery has to be done with precision, and the finishing has to be perfect. In fact, finishing is an extremely important process in a textile product manufacturing, as it enhances the value of a product manifold.
Which have been your most impactful projects?
It's very difficult to pinpoint a particular project. Since textile is a very labor intensive industry, it benefits several layers of people involved in the making of any product. Whenever our clients get good business on the products we have developed, it generates work for yarn spinners, dyers, weavers, printers, embroidery artisans, tailors, finishing workers, packaging material producers, transporters and so on. Hence, we feel each of our projects has a positive social impact through livelihood generation, besides being creatively satisfying and economically rewarding.
Over the last 30 years, I have done more than 100 projects promoting home textile products globally. At any given point of time, at least 100 weavers are involved in producing fabrics to make a variety of products for our clients.
I would like to mention the UNDP carpet project, which was coordinated by National Institute of Fashion Technology Delhi for the office of the Development Commissioner, Handicrafts, and carpet exporters. We had a team of 20 designers, each one attached to two carpet export organizations. Each designer developed 10 designs for the two exporters associated with him/her, making it a collection of 200 carpet designs. These designs were prototyped and the carpets were exhibited at Domotex, Germany, the largest trade fair in the world in the floor covering category. The response was phenomenal. I would say that due to its creative inputs, variety and size, this project generated work for hundreds of people involved in the carpet industry.
Another project I would like to mention is HGH Trends Pavilion and Trends forecasting. HGH is a domestic trade fair for home décor products held every year in Mumbai. We conceptualized trends for three consecutive fair editions, developing forecasts for the Indian market. The trends were also represented at the fair. The pavilions were 4,000 sq. ft. in size. This project has successfully created awareness of trends in the home decor industry in India.
In the past three decades you've worked with private companies like Fabindia, and with the Ministry of Textiles and other government institutions. How different is the experience?
Working with a private organization is totally different from working with government organizations. In the private sector, the client wants returns for every rupee they invest. Someone told me once that the real spelling of 'business' is 'money'! The bottomline is how much of business can be generated through new product development. If the products designed by us produce good business for the client, then it is considered as 'good design'; if it doesn't, then he is no longer interested in investing in our designs. I feel this happens in every design field.
Working with the government is very different. If the project involves only a government agency, then it's only about developing some products and making reports. I feel government projects are only workable when the private sector is involved as one of the participants or as a beneficiary.
How does designing for the domestic market differ from designing for exports?
In India we do not follow any trends. We buy things based on the maintenance of that product. We do not change our furnishings regularly, only when it starts wearing off. The north has certain preferred colors, while the south has their own favorites, and they remain more or less the same for years. Therefore when you design for the domestic market, things remain more or less the same. Also, cinema plays a big role in influencing the buying pattern of Indian consumers. Thanks to the media, lifestyle conscious sections in urban areas are becoming aware of international trends and are trying to follow them.
The overseas market on the other hand is very trend sensitive. They follow trends on a regular basis. Two yearly seasons are followed – spring-summer and autumn-winter. Stores change their look every six months. So, when you cater to a demanding consumer, you need to put in a lot of research and effort in design.
What challenges does a design consultant for textile companies in India face?
When I started working as a designer way back in 1985, many corporates were into exports of home furnishings. However, most of them could not sustain operations because of rigid corporate hierarchy; they were not able to balance the overheads with profits generated. There is a big difference in home textile manufacturing and other automated consumer goods manufacturing. Textiles manufacturing is a highly process-driven operation, necessitating expert human intervention at every step of development. A variety of materials and techniques in several stages of manufacturing require constant monitoring to achieve a flawless product. Many companies in the corporate sector could not manage the ordeal, leading to eventual closure of their businesses. Several enterprising people who worked with these companies started their own businesses by picking up buyers from the companies they worked for. Eventually the home textile sector disintegrated into small business houses, mostly family owned companies.
When I worked with the corporate sector in the early years of my career, there was a more professional approach. I was a Design Consultant to ITC Ltd. When one works for family owned companies, most decisions are communicated verbally, and there are possibilities of misinterpretation of instructions and problems of payment recovery. Lack of patience is another issue: clients expect immediate results. As long as your designs generate business for them the association goes smoothly.
How has the global textile market evolved over the 26 years that you have been attending and designing for Heimtextil?
Working on Heimtextil projects for an international audience has been the most fulfilling part of my journey. Over the years I have witnessed the evolution of the Indian and global home textile industries. When I first visited the Heimtextil fair in 1994, there were about 20-25 Indian companies participating. The booths were very small and made of Octonarm systems. Theeme based collections and displays were nonexistent. Products were assorted and sourced from various parts of the country. It was an eye-opener to visit European stands and discover the tremendous potential they offered for creating collections that didn't exist in India. The appropriate design of visual merchandising to enhance saleability was another aspect of my learning.
Over the years Indian exporters also realized the importance of design development and visual merchandising for the growth of their businesses. As this awareness increased, companies started employing designers, which was not the case earlier. Gradually the participation of Indian companies increased manifold and today it stands at 400+ companies. It's the second largest participating country after Germany, the host country.
Every year when I visit the fair, I get rejuvenated with inspiration, information on upcoming trends and technological innovations. It gives me enough inputs to work on till the next time.
What, in your opinion, is the role of technology in the textile business today?
In the textile industry technological innovations happen at a fast pace. One needs to stay updated to be able to best utilize the new creative technologies for future product development. Digital printing on textiles is a phenomenal technology which is likely to replace other printing technologies such as Flat Bed printing.  Minimum Order Quantity is not an issue any longer – one can print a single meter, up to any quantity. Customization is possible at a reduced cost and time. When digital textile printing entered the Indian market, it was not cost effective. But a number of units have come up since then, eventually becoming more competitive and affordable.
During my recent visit to Heimtextil, I saw a digital printing machine (CMYK) that could print from a width of 126 inch up to any length, at a speed of 280 to 430 sq. mt. per hour! This is a step towards totally changing the fabric printing scenario worldwide. The flip side of these developments is that it will eliminate many jobs. Every new technology creates opportunities as well as challenges. That's the way it is.
How will the Indian home décor market look in the next five years?
One of the most important trends that will be seen is customization, which the digital printing technology will facilitate. The customer will not need to settle for what's available in the market, but can customize as per his theme and imagination, giving everyone a chance to exercise their creativity. This will be done on fabrics, wallpapers, tiles, etc. In fact, there are already a few companies providing these services.
How does your recent teaching engagement affect your professional practice?
I started teaching part-time because I wanted to share my knowledge and experience in the area of weaving with young people. I also wanted to bring in a change in my daily professional routine. My studio is open to anyone who wants to learn weaving. The idea is to teach, whatever be the method or place.
What would you advise youngsters pursuing textiles as a career today? 
Focus more on weaving, as it is the core of textile design. Textile is a combination of design and technology, so always stay updated with the latest technologies to be able to develop new and innovative products. Do not hesitate to explore various materials. To create something new, start from developing yarns and move on to weaves. The other techniques only add superficial bling! Creating your own product – manufacturing and marketing it – gives incomparable satisfaction.
This article was originally published in POOL 104.
Subscribe to POOL Magazine, and stay in the know of all what matters in Indian Design today!
Tags: Indian textile, Mahesh Borse, Textile, Textile Design, textile designer