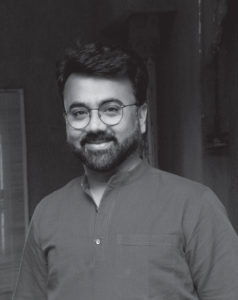 Textile designer Vinay Narkar left a career as corporate lawyer in Mumbai to revive textile traditions in his hometown, Solapur.
He works with Gadwal, Solapur, Pochampally and Irkal handlooms, designing silk saris:
"I learnt only recently that there once existed a very famous Solapur cotton sari, called Kondi Chikki. It disappeared 35-40 years back in its original form, but a synthetic version is now available, in which the original technique is compromised. Very few weavers are working in Solapur now, and it took me almost four years to convince them to weave the Solapur sari in original form and with pure cotton."
Together with textile industrialist friend, Govardhan Chatla, they have recently revived the Kondi Chikki sari of Solapur.
"Understanding the esthetics of a textile tradition is very important, especially while working on a revival. Every piece of textile is the product of time and place." – Vinay believes.
For his latest collection, he collaborated with the dyers of Pochampally, who had trained the dyers in Gadwal in Ikat dyeing.
Vinay's saris sell through exhibitions, online portals, and stores. Working women, artists, and professionals relate to his designs, as the way to express themselves through those saris. New career turned to be successful yet challenging for him:
"Right from convincing people to accept a lawyer as a designer, there are challenges all over. I just want to work with Indian textiles, come what may; this never-say-die attitude is more sustainable than any challenges in the way!"
Vinay Narkar wants to collaborate with various textile traditions of India, undertaking different revival projects. He plans to introduce a line of home textiles and men's handloom wear as well.
Read this story in POOL 78. 
Tags: sari design, Solapur sari, textile designer, textile revival, Vinay Narkar