When Snigdha Karmahe gave up her 9 to 5 job to follow her heart, she had no idea she was setting the stage for a very satisfying career in production design
What drew you to the arts?
My entire family was into theater, dance and music. As a child I was interested in painting and theater too but never realized that one could make a career out of them. I was studying Information Technology at National Institute of Technology Raipur when I realized one should work in a field closer to their heart. That was my biggest learning! And since then I only do a thing if I enjoy it – not just for money, name or fame.
I went on to do a PG in Information and Digital Design from National Institute of Design, Ahmedabad. National Institute of Design brought about a lot of changes in me. I think I would be a different person if I had not gone to National Institute of Design. I think almost every day I apply what I learnt there. My IT background allows me to think art and technology together – which is very exciting. I also do art installation projects and in some of them I have combined art with some interactive technology.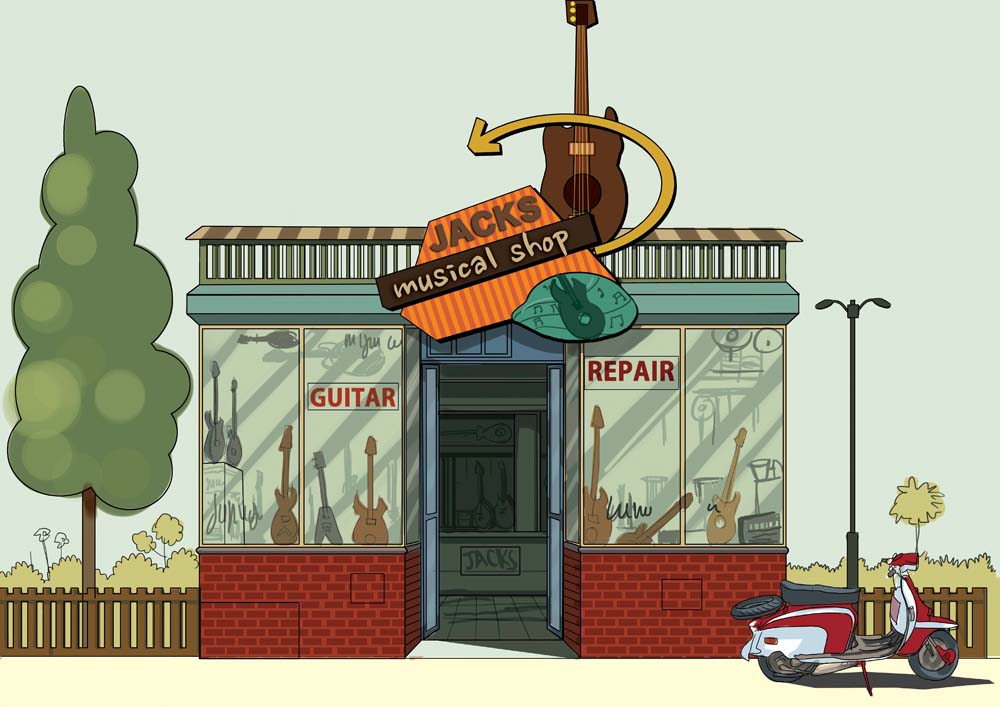 What took you to production design for Bollywood?
It was not a planned thing. After National Institute of Design I was working as a story visualizer for Times of India in Mumbai. I also did some theater during this time. Soon I realized that I did not enjoy sitting in front of the computer the whole day – I loved interacting with real people and real spaces – so I quit my job. My parents were concerned and started questioning me about my career goals. They wanted me to have a 9 to 5 'settled' job, but all I wanted was to follow my heart. They were unhappy and gave me the option to either stay with them and live according to their wishes or leave home. I decided to leave home and live on my own terms.
I had no work or money and was ready to do any work that came my way so that I could pay my rent. I called up all the people I knew in Mumbai. A friend knew someone in the film industry who was looking for someone who could paint. My first Bollywood project was assisting an art director. After that, I assisted with a TV serial for two months but I did not enjoy it. My second project was a movie named Aa Dekhey Zara and the third was with Aamir Khan Production's Peepli Live.
How has your confidence as a production director grown since then?
Initially I was not confident at all but with experience and hard work now I am able to work as an independent art director. Ten years back it was hard for me to believe that I could be a successful art director but now whenever I read a script, I can visualize the set easily with relevant details.
How did you get into production design for advertisements?
I was working as an assistant to Sukaant Panigrahi who used to take up other ad-related projects. Since he was very tied up with work, he asked if I could work as a production designer for an advertisement that was associated with Disney. The project was very interesting as it involved handmade crafts. The experience helped me develop the confidence to work independently. When it comes to advertisements, you have to create the entire set in a day or two. You have to understand the design brief and execute it in a very short time. It prepares you to be ready for anything anytime!
How is production design for films different from advertising?
Films definitely have more layering in terms of characters. In advertising there is hardly any time to establish the character – his hobbies, profession, family, etc. The focus is mainly on the product and its target audience. In films we have multiple characters, their moods and character progression. As the story progresses the tone of the film also changes – there is a wide holistic view to consider.
Which have been some of your memorable projects?
The Canadian film Babysellers was my first international project. It was the first time I actually saw how things happen in the West – how organized they are, and how they look into each and every detail. They would not even allow me to work beyond 9 pm.
Another project I really enjoyed working on was the hand painted set for the music launch for the film Gunday. For 10 days and nights we painted three walls of 100 x 25 feet. It was complete madness.
Andhadhun was another major project I loved working on. It was great to work with the extremely talented director Sriram Raghavan and the DOP Mohanan. Sriram Sir is a wonderful person – so sensitive to everyone. He is just so immersed in his work.
I am currently working on a film called Jhund, directed by Nagraj Manjule and starring Amitabh Bachchan. I am enjoying this project, since working with such experienced people, who treat every project as their first project, inspires me. In fact all the people on the set are experts and know how to make things real. Everyone works with such enthusiasm that it creates a positive environment.
What has been the most challenging brief you have worked on?
We had to make a floating set on water for a film. I was a little scared since I had never done this before, but my partner Pankaj had lot of experience and we did it right. Another challenge was the advertisement for Maruti Ignis. The Spanish director had some light design in mind but those type of lights were not available in India. We fabricated the lights and programmed them to give the desired effect.
What are your key learnings on the job?
One of the most important aspects of an art director is to put yourself in a character's shoes before you buy props for the set or for the scene. I do not buy props just for the sake of beautification but to ensure a realistic look. It is very important to analyze your work or re-look at it so that you can improvise further in upcoming projects. I was once watching one of my feature films on the big screen and realized that every detail played a key role in the scene, so now whenever I design a set I make sure that I visualize it 10 times larger than the usual.
What inspires you?
Real life! I love to talk to characters similar to those I am working on. It always gives me some fresh new insights.
What does it take to excel at production design?
Dedication, passion and honesty are key elements to excel. It is a good idea to set time aside every day to work on hand drawn illustrations like sketching, painting, building sculptures and more – that keeps you grounded and helps you to visualize. I have assistants who work as per my instructions but there is some work that I like to do myself since I want to shape things exactly how I visualized them.
How do you maintain a parallel career as an art installation artist?
Though art installation is my first love, I am not a full-time art installation artist. I take up art installation work only when I am not working on any film-related projects.
What's next?
I haven't really set any goals for the future. All I visualize is that I will be performing better than yesterday. I am looking forward to working as a film director one day. Normally, the projects we work on have references such as a police station, court and so on. I look forward to working on projects without references – where we start from scratch, filling spaces in the story in a relatable and entirely new way. A dream project is to work with a director with an artistic background.
This article was originally published in POOL 102.
Subscribe to POOL Magazine, and stay in the know of all what matters in Indian Design today!
Tags: art installation, indian design, Indian designer, installation, Production set design, Set design, Snigdha Karmahe