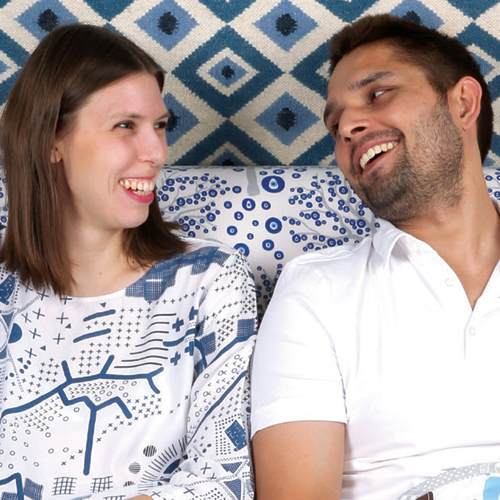 Tell us about Safomasi. How did it come about?
Sarah: Safomasi began as a way for us to work and travel together. I had spent four months traveling around India. I had a sketchbook full of drawings and ideas for prints, and would work on them in the evenings and weekends outside of my day job. When I met Maninder, we started working on them together and experimenting with screen printing them onto fabric. We really liked the process and how it came out and encouraged by our friends decided to take it further and develop them into a range of travel inspired home textiles. In December 2012, we launched Safomasi with a small range of quilts and cushions.
Where do you look for narratives?
We tell the story of our travels all over the world, and get our narratives from the landscape, architecture and culture. It's all about our personal observations and experiences, and we like to keep it playful and fun.
Where do you source the fabric?
Our fabrics are sourced from mills in North India. We buy raw fabric that we process and dye ourselves before screen printing so we have been working with most of our suppliers for over six years now and have a great relationship with them.
What's next for Safomasi?
We're looking to further expand our brand internationally. Our current focus is on working with interior designers in the UK and India to supply furnishings for residential, commercial and hospitality projects. We are also expanding our design services and are opening up to commissions for bespoke prints and patterns.
This article was originally published in POOL 107.
Subscribe to POOL Magazine, and stay in the know of all what matters in Indian Design today!

Tags: design studio, screen printing, Textile, Textile Design, textile designer